Tips to stay healthy during flu season
Tips to stay healthy during flu season
1/8/2018 |
University Communications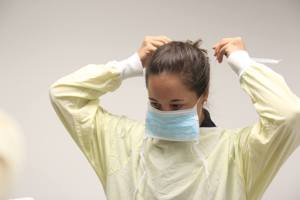 Cold and flu season is upon us! Being sick is never enjoyable, but we can all do our part to know the facts about how to stay healthy during this time of year.  
To help prevent the spread of all germs and viruses the CDC recommends the following guidelines:
Wash hands often with soap and water for 20 seconds. Washing hands correctly is the most important thing you can do to stay healthy. See Hand-washing:Clean Hands Save Lives.
Avoid touching eyes, nose and mouth with unwashed hands.
Avoid close contact, such as kissing, hugging, and sharing cups or eating utensils, with people who are sick.
Cover your coughs and sneezes with a tissue or shirt sleeve, not your hands.
Clean and disinfect frequently touched surfaces, such as doorknobs.
Stay home when you are sick and keep sick children out of school.
 Flu Information
The best way to prevent the flu is to get a flu shot!
Flu shots are now available at the University Health Center for $20. Any insurance is accepted. If you are on the Office Visit Plan (OVP), the flu shot is free. If you are a USI employee on the Anthem Medical Plan, bring your insurance card and receive a flu shot at no cost to you.
The University Health Center is open Monday through Friday from 8 a.m. to 4:30 p.m. and no appointment is necessary to receive your vaccine. 
More information about flu prevention has been posted on the USI Health Center website.
If you have questions contact the University Health Center at 812-465-1250 or visit online at USI.edu/healthcenter.The Health Center is located in the lower level of the Health Professions Building, Room 0091.