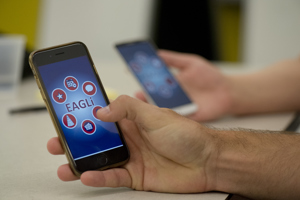 The University of Southern Indiana's Application Idea Competition (APPCOM) is now accepting the best ideas for new web and mobile applications from USI students, faculty and the community. Submissions are open to the public until February 24.
Participants have the opportunity to develop their ideas, design the features, build a prototype, pitch to potential investors and win a share of $20,000 in cash and prizes to fund the app. APPCOM semifinals and finals are scheduled for March 24 and April 14, respectively.
"APPCOM provides capital in the form of prize money to the best ideas, in hopes of generating a new business capable of hiring USI students and making an economic impact within the region," said Josh McWilliams, program coordinator.
APPCOM is one of four programs currently offered through the Eagle Innovation initiative, formally known as Technology Commercialization, with additional programs in the works. Through programs offered to USI and the greater community, Eagle Innovation aims to foster the region's innovation ecosystem.
The Technology Commercialization Academy (TCA), is a paid, twelve-week program designed to develop innovative leaders and create opportunities for USI graduates in Indiana. TCA recruits students from all majors where they develop ideation, critical thinking, problem solving and communication skills. TCA culminates with a final pitch event, open to the public on August 10.
The Eagle Innovation Accelerator (EIA) supports students and aspiring entrepreneurs with knowledge, funding and resources to further develop their ventures. To date, EIA has supported nine new start-ups, some of which include Troika Outdoors, Jimbot, Nudget and EasyReach.
Entrepreneurs interested in building momentum in their own ventures can attend EIA's free acceleration activities from 6 to 7 p.m. at USI @ Innovation Pointe. Upcoming programs include:
March 13: Exploring the Business Model Canvas
March 27: The Anatomy of a Pitch
April 10: Organizational Considerations for Startups
The Business Model Competition (BIZCOM) solicits innovative business ideas from the greater USI community and connect those ideas to teams, mentors and resources to develop a business model. Winners will receive a share of prize funding to further their business. Applications for BIZCOM open August 22.
Companies seeking support to launch new ventures, products, markets or individuals who are subject matter experts interested in these program, contact Josh McWilliams jdmcwillia@usi.edu. For more information on APPCOM and to apply, visit USI.edu/APPCOM.