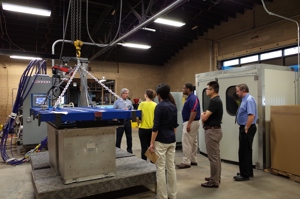 The 13th annual Day on the Bus is scheduled from 7:30 a.m. to 4:30 p.m. Thursday, August 16. Sponsored by Old National Bank, participants will meet in  the atrium of the Old National Bank building in downtown Evansville for coffee, donuts and a welcome message from University of Southern Indiana President Dr. Ronald Rochon. Once the bus leaves, participants will travel to Sabic, AstraZeneca and CountryMark to learn about their expanding opportunities and workforce trends for students.
Day on the Bus is a workforce development event for faculty and staff from USI, University of Evansville and Ivy Tech Community College to spend a day on a coach bus and visit selected organizations in the southwest Indiana region.
Administrators and faculty have a chance to learn how to prepare students for the developing workforce, share best practices with peers and promote long-lasting collaboration throughout the surrounding area.
"I came to USI having not been a part of higher education and went straight into a 3-month program which limited my exposure to university life," said Josh McWilliams, technology commercialization coordinator. "When I heard about Day on the Bus, I jumped at the opportunity to be exposed to people not only from USI, but other institutions and organizations."
The agenda for Day on the Bus includes:
7:30-8:00 a.m. Start at Old National Bank atrium (Networking, opening comments, group picture).
8:30-10:30 a.m. Sabic facility tour
11:00 a.m.–1:30 p.m. AstraZeneca facility tour and lunch
1:45-3:30 p.m. CountryMark facility tour
3:30 p.m. Board bus to Old National Bank
3:30 –4:00 p.m. Discussion of impact and debrief forms
While seats are limited, faculty and staff from USI, UE and Ivy Tech are encouraged to register today.
For more information, visit USI.edu/DayontheBus or contact Stephanie El Tawil, supervisor of Opportunity Development, at sjeltawil@usi.edu.
By Delaney Somers, USI Opportunity Development Communications Intern