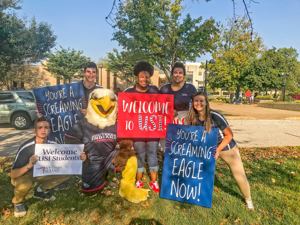 As the start of the new academic year approaches, Housing and Residence Life will begin housing move in and the start of Welcome Week for the newest members of the USI family. In order to help make this first event for the new students and parents as welcoming as possible, we are asking for your help.  
On Wednesday, August 15, please avoid parking in Lots E and F.  This is move-in day for the Living Learning Communities at Ruston Hall and O'Bannon Hall.  The Office of Public Safety will be routing the incoming vehicle queue through several rows of Lot F and into the last row of Lot E beginning at approximately 9 a.m. 
On Thursday, August 16, please avoid parking in Lot C (next to the Physical Activities Center), Lot D and Lot E (in front of the Residence Halls and to the south of the Fitness Center).  By freeing up these lots, it allows for the students and families to gain access to the PAC for the Welcome Week check in, and it also allows for the residence hall students and families to park in Lots D & E.  
As renovations continue on the Physical Activities Center (PAC) and new arena, please be mindful of posted signage and the potential for construction delays.  At least one northbound lane of University Boulevard and Bennett Lane are scheduled to be open for car traffic.  However, deliveries and construction needs may cause periodic, unanticipated delays. Remember the speed limit on all roadways on campus is 15 miles an hour.   
Thank you for driving safely on campus and for your help and support of Welcome Week and Housing Move In!