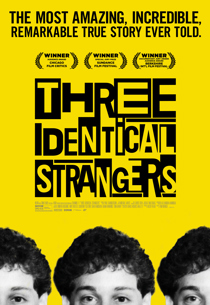 The University of Southern Indiana and Historic New Harmony are partnering with the Kent and Laurie Parker Foundation to show the documentary, THREE IDENTICAL STRANGERS. The free showing will be held at 8:00 p.m. Saturday, November 17 in the Atheneum Visitor's Center and is open to the first 150 attendees. The film was a 2018 official selection of the Sundance Film Festival and is rated PG-13. 
THREE IDENTICAL STRANGERS tells the astonishing true story of three men who make the chance discovery, at the age of 19, that they are identical triplets, separated at birth and adopted to different parents.
"I think the simplest way of saying it, as Lawrence Wright puts it in the film, is that your genetics give you a tendency to move in certain directions and your environment can overcome that gravitational force," said Tim Wardle, director.
In 1980, through a series of coincidences, two complete strangers—19-year-olds Robert Shafran and Edward Galland — made the astonishing discovery that they were identical twins. They had been separated at birth, adopted and raised by different families. Even more incredibly, when their story ran in the New York Post, another 19-year-old, David Kellman, realized he was their triplet, adopted to yet another family.
After an overwhelmingly joyful reunion, the brothers became instant media sensations, interviewed by Tom Brokaw and Phil Donahue, clubbing at Studio 54, even appearing in a movie with Madonna. But the brothers' discovery set in motion a chain of events that, decades later, unearthed an extraordinary and disturbing secret that goes far beyond their own lives – a secret that goes to very heart of all human behavior.
"To me, the connection between New Harmony's Robert Owen and his theories regarding the impact of environment and education on a person's character development and the modern-day story told in this film is striking," said Kent Parker. 
​Historic New Harmony is a unified program of the University of Southern Indiana and the Indiana State Museum and Historic Sites. By preserving its utopian legacy, Historic New Harmony inspires innovation and progressive thought through its programs and collections.
For more information on the free showing of THREE IDENTICAL STRANGERS, contact Historic New Harmony at 812-682-4488.