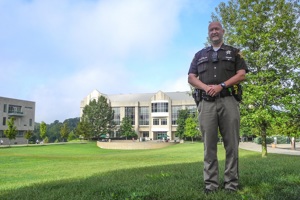 When Deputy Gilbert Roberts graduated from USI with an associate's degree in communications in 1999, the Liberal Arts Center and Residence Halls were brand new and USI men's and women's basketball teams were simultaneously ranked #1 in their division in the nation. Roberts is now one of five deputies serving the USI campus full time through a partnership with USI Public Safety announced in August.  
A lot has happened since then, with many new buildings going up and a few more national championships secured. After graduating, Roberts put the skills he learned in his communications classes to work as a certified EMT. Whether it was using nonverbal cues while calming a patient or using direct language to ensure compliance and understanding, he was fine tuning his ability to stay calm in a crisis.
He was sworn in as a deputy in 2004, serving most of his career in the motor patrol section of the Vanderburgh Country Sheriff's Office.
When the partnership between USI and the Sheriff's Office was announced, Roberts chose to return to where it all started for him. His first day at USI was Welcome Week, which he found to be chaotic but fun. "It's pretty nice being back at USI," he said. "I had not stepped on campus since I was in a training simulation in the old Rice Library when it was an empty shell back in 2006. I am amazed by all the new buildings. And the campus is just beautiful. The grounds crew at USI does a wonderful job. They keep the entire campus so pretty and colorful."
Roberts sees his role on campus as providing a watchful and friendly presence. With nearly 20 years between Roberts' days as a student and today, he was surprised to find that students at USI have not changed that much, outside the technology they use. He considers them to be extremely polite and friendly.
Between the staff and students at USI, the deputies work closely with USI Public Safety to ensure the campus is safe. "I think of myself as just an extra layer of safety on campus," he says. "The other deputies and I are here to be good community partners and make the students and staff feel safe and comfortable."
Now he uses his communications skills when talking to members of the USI community. "We're here to listen or give advice," he said. And if you ask him for his advice on Fall Festival food, he'll recommend the TKE's Stromboli every time.