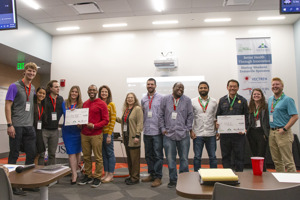 After 54 hours of brainstorming and building, the team behind Safe Tracking for Eloped Individuals (STEI) was awarded first place at Startup Weekend Evansville 8.0 (SWE) on Sunday, April 14 at the University of Southern Indiana's Health Professions Center.
This year's SWE theme was "Better Health Through Innovation," and pitches focused on ideas that promoted health and wellness to address Vanderburgh County's pressing health care issues.
The winning ideation, STEI is a tracking device for individuals with dementia that wander off from caretakers.  The device can track these individuals within 1 meter, provide vitals while tracking and automatically alert first responders and rescue personell. As the first-place team, STEI received development funding from USI's Eagle Innovation Accelerator, consulting and software services from Lieberman Technologies and a six-month membership to Cowork Evansville. Members of the winning team were Michael Austin, Suri Nuthalapati, Michael Polley, Sydney Schmitt and USI Master of Health Administration student Jacob Delk '17.
"We are all extremely pleased with the turnout and participation at this unique, health-centered event," said Bryan Bourdeau, instructor in business and Startup Weekend Evansville co-founder and co-organizer. "I look forward to working with these teams in collaboration with the Eagle Innovation Accelerator. Our goal is to push these ideas to implementation as quickly as possible."
Two ideas tied for second place: Vital Ryde, a mobile application created to mitigate drinking and driving, and Healing Gardens, a product focused on mitigating food insecurity and education. Two USI Master of Health Administration students, Rokas Cesnulevcious and Hope Cesnulevcious, were among those on second-place teams. Second place teams also received awards and prizes from the USI Eagle Innovation Accelerator, Lieberman Technology and Cowork Evansville, as well as business coaching services from Focal Point Coaching.
Other ideas that made it to the final pitches included Leap, a ride sharing solution for students during at-risk hours after school; Holistically Hoosier Health & Wellness, services focused on promoting mental and physical health; and Care 4 Me, an online service to ensure medical instructions are followed as senior citizens age at home. 
Founded in 2007, Startup Weekend is billed as "the world's largest community of passionate entrepreneurs," with events held in cities throughout the world. In its eighth year, Startup Weekend Evansville is the largest event of its kind in Indiana.
SWE 8.0 was sponsored by the USI Romain College of Business and College of Nursing and Health Professions, Vectren Foundation, Lieberman Technologies, Growth Alliance for Greater Evansville, Focal Point Coaching, and Tri State Community Clinics. In-kind sponsorship included Bauerhaus Catering.