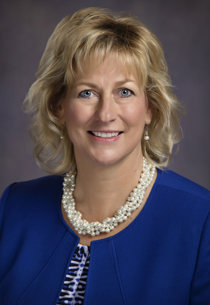 The University of Southern Indiana will hold a Commencement ceremony for graduate students at 6 p.m. Friday, April 26 in the Screaming Eagles Arena on the USI campus.
The speaker for the Graduate Ceremony is USI graduate Dr. Donna M. White, doctor of nursing practice class of 2016. Prior to her degree from USI, White earned a bachelor's degree in nursing from Culver-Stockton College in 1989; a master's degree in community health administration and wellness promotion from Independence University in 1996; and a master's degree in nursing education from American Sentinel University in 2012.
White is an associate professor of nursing at Hannibal-LaGrange University where she also serves as the Registered Nurse to Bachelor of Science in Nursing (RN to BSN) program coordinator. In this role, she is responsible for the direction and coordination of the online RN to BSN Program, including curriculum, program and student outcomes, accreditation and other administrative roles. She also has served as an associate editor for the Journal of Christian Nursing, where she reviewed manuscript submissions, performed copy editing, wrote editorials and collaborated with the editing and publishing team to make decisions on manuscripts for publication for the Journal and the Nurses of Christian Fellowship.
In 2012, White received the American Sentinel University Deans Award and became a member of the American Sentinel University Nursing Honors Society. She was honored with the University of Southern Indiana Graduate Scholarship Award in 2015. She resides in Golden, Illinois, with her husband. They have three children and one grandson.
Also at the Graduate Ceremony, honorary Doctor of Laws degrees will be presented to Linda L. M. Bennett, USI president emerita and active civic leader who retired in 2018 after nine years as president and six years as provost; to Stephen E. Bennett, retired professor of political science and author, for his dedication to higher education and 15 years of service to USI; and to Betty J. Worthington for her years of service to the USI/New Harmony Foundation Board and support of the arts, New Harmony and the University.
Guests are not required to have tickets for the Spring 2019 Commencement ceremonies but graduates must make a reservation to participate. All planning to attend are strongly advised to review the Screaming Eagles Arena Prohibited Items and Security Policy at USI.edu/arena-security. Once capacity within the Arena is met, attendees will be directed to the University Center East Conference Center, where a livestream of the ceremonies will be shown.
A reception for the graduates and their friends and families will follow the ceremony and will be held in University Center East.
The four colleges at USI will conduct undergraduate ceremonies on Saturday, April 27 according to this schedule:
College of Liberal Arts, 9 am.
Romain College of Business, noon
College of Nursing and Health Professions, 3 p.m.
Pott College of Science, Engineering, and Education, 6 p.m.
Live video of each ceremony will be streamed in University Center East Conference Center (Rooms 2217-2220). The ceremonies also may be viewed online at USI.edu/live-stream.