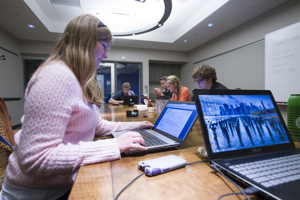 The Indiana Commission for Higher Education has approved two new certificates in Cybersecurity and in Data Analytics for Business to be offered by the University of Southern Indiana Romain College of Business Management and Information Sciences Department beginning in the fall 2019 semester. 
"These new certificates will allow students to expand their studies to include emerging, in-demand fields and skills," said Dr. Brian McGuire, interim dean of the Romain College of Business. "As opportunities arise in new fields, we are ensuring that our faculty and curriculum are equipped to provide the best possible education and resources to meet those opportunities."
Students completing the Cybersecurity Certificate will gain an in-depth understanding of cybersecurity through the study of behavioral, technical, operational and strategic approaches to the issues associated with cyber threats. Students completing the Data Analytics for Business Certificate will gain an in-depth understanding and hands-on experience in data analysis through experiential learning in data visualization and storytelling, the use of advanced predictive analytics tools and methods, and data management and preparation.
Both certificates will be 12 hours of coursework and require 9 hours of required courses and 3 hours of electives. These certificates may be obtained in concurrence with baccalaureate and associate degrees.
For more information about the new certificates, contact Dr. Abbas Foroughi, chair of the Management and Information Sciences Department, at aforough@usi.edu or at 812-465-1667.