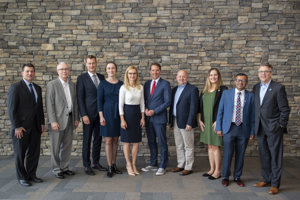 When Dr. Daria Sevastianova, associate professor of economics, organized her first study abroad trip to Germany through the International Summer University in 2012, three USI students made the more than 24-hour journey with her. "It's a bonding experience," Sevastianova says of the two-flight, two-train adventure. "It gives them [students] confidence to travel on their own in the future."
Eight years later, the program boasts more than 100 USI alumni. When Sevastianova returns to Osnabrück in July, an additional 17 students will join her for the transformative month-long academic and cultural immersion. "They say the summer trip is life-changing for them," she explains. "[They] refer to it as the 'best college experience.'"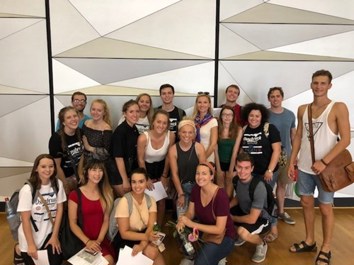 The success of those trips and her love of Evansville's sister city led Sevastianova to spend the fall 2013 and 2018 semesters teaching international business students from all over the world in Osnabrück. Her transatlantic involvement grew to include a place in Evansville Mayor Lloyd Winnecke's sister city delegation in 2018, and, most recently, an important role in bringing a group of business and academic leaders from Osnabrück to USI.
Over two-and-a-half days, the German delegation toured USI's campus and the greater Evansville area, sharing their country's dual education teaching approach (utilizing practical training and coursework) and exploring future partnerships with USI.
Members of the delegation also provided valuable advice to USI students, employees and other stakeholders at the discussion panel and networking event "Employability: (Made) in Germany" held in the Griffin Center on April 17. The event, organized by Sevastianova in collaboration with the Universities of Applied Sciences Consortium 7 (UAS7) and the USI Center for International Programs, was part of the larger public diplomacy campaign, Wunderbar Together: The Year of German-American Friendship. Funded by the German government, it aims to highlight all aspects of Germany through a wide-ranging series of events (featuring everything from mobile beer gardens to a sustainability summit) in the United States. USI was one of five universities to participate in the campaign, joining Kansas State University, University of Alabama in Huntsville, Clemson University and University of Pittsburgh.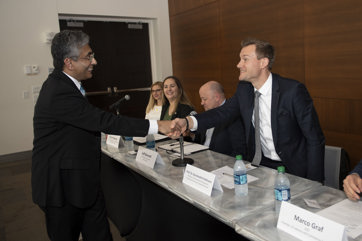 During the panel, Marco Graf, CEO of the Chamber of Industry and Commerce Osnabrück, told USI students interested in the global workforce to travel abroad, learn basic German speaking skills and focus on business-related academic courses. He highlighted strong existing economic ties between the U.S. and Germany (the largest BMW operation, for example, is in Spartanburg, South Carolina), as well as the potential for growth.
In fact, international growth is happening right now at Evansville-based Berry Global. Fellow panelist Jeff Bennett, executive vice president of Berry Global, explained that the company will be adding 3,700 new employees at 18 manufacturing facilities in Germany with a new, multi-billion-dollar acquisition, making 9.5% of Berry's global workforce German. Berry, he said, is looking for employees with an "entrepreneurial mindset" who will bring forward new ideas, challenge the status quo and partner with other team members. He also said the company is interested in candidates who are "open to relocation."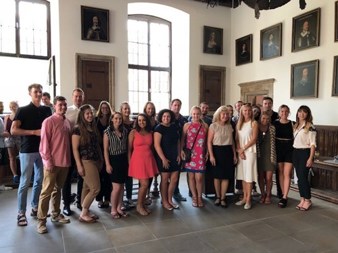 And the easiest way to understand a new location, offered panelist Dr. Kay Hendrik Hofmann, professor of international management at Osnabrück University of Applied Sciences, is to go there. He emphasized the importance of study abroad experience and its ability to set students apart from other job candidates, pointing out that travel can demonstrate "flexibility of your comfort zone" to a potential employer.
Greg Wathen, president and CEO of the Economic Development Coalition of Southwest Indiana; Alicia Frederick '19, an accounting and finance major and alumna of the German summer study abroad program; and Sevastianova also participated in the panel.
"From this showcase, we will build business collaboration with local companies as well as German companies, so that students on both ends can have better job and internship opportunities," Sevastianova says. "I am a very happy steward of [this growing partnership]."
Read about USI's 2018 International Summer University trip to Germany