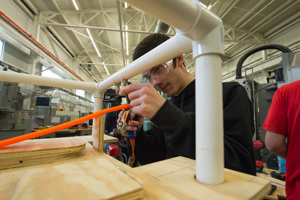 The Indiana Commission for Higher Education has approved a Bachelor of Science in Civil Engineering (BSCE) Program to be offered through the University of Southern Indiana Pott College of Science, Engineering, and Education beginning in the fall 2019 semester.
"We're excited about this newest addition to our strong and growing Engineering Program," said Dr. Zane Mitchell, dean of USI's Pott College. "This discipline-specific degree will elevate the reputation of our civil engineering graduates while also filling an ongoing and growing need for civil engineers in the region and state. With an already-established foundation for the program in place, we could see our first graduates as early as this December."
The new BSCE Program builds upon the strong reputation USI's Engineering Program has already established for consistently producing graduates that have success in industry and within the profession. Students have opportunities to participate in co-operative education and internships, and to become part of an active student organization. They also experience an applied perspective in the classroom, with a focus on innovative real-world design problems. USI's engineering courses are taught by experienced faculty, many of whom are also licensed professional engineers—never from graduate students. 
State-of-the-art labs, combined with a variety of engineering coursework, prepares graduates through hands-on learning opportunities and several annual design challenges, like steel bridge and concrete canoe competitions. Most recently, USI's engineering team won first place in the American Society of Civil Engineers (ASCE) Great Lakes Student Conference Mystery Competition that led to building turbidity filters for filtering clay from water. Additionally, a group of students is traveling with faculty to Africa in Summer 2019 to build a 95-meter bridge in the community of eSwatini (formerly Swaziland).
BSCE courses build directly upon the engineering core curriculum of Statics, Dynamics, Thermodynamics, Fluid Mechanics and Strength of Materials. Students take courses that cover the full spectrum of subfields in civil engineering, including structural, water resources, environmental, construction materials, transportation and surveying, construction estimating and management, and geotechnical. This wide range of elective courses gives them opportunities for significant breadth in the field of civil engineering.
The program is 127 hours, which includes 47 hours of core civil engineering courses and 16 hours of engineering electives. Students also have access to USI's Applied Engineering Center, an innovative facility equipped with $3.3M of custom-made manufacturing and engineering equipment.
Civil engineering is a fast-growing field geared toward problem solvers looking to improve and create strong, sustainable solutions for roads, bridges, dams, structures and infrastructure. The Bureau of Labor Statistics projects an 11% employment growth rate for civil engineers through 2026, and long-term projections show Indiana having a 14% increase in new civil engineering jobs over the next 10 years.
The BSCE Program joins Bachelor of Science in Electrical Engineering, Bachelor of Science in Manufacturing Engineering and Bachelor of Science in Mechanical Engineering degree programs as discipline-specific engineering degrees offered through the Pott College of Science, Engineering, and Education. The USI Engineering Department also offers a general Bachelor of Science in Engineering degree program which is accredited by the Engineering Accreditation Commission of ABET.
For more information about the BSCE Program, visit USI.edu/engineering, contact USI Admission at 800-467-1965, or contact Dr. Paul Kuban, chair of the Engineering Department, at pkuban@usi.edu.