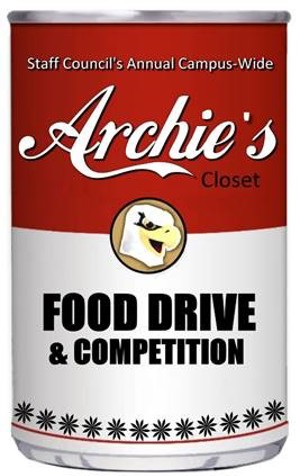 USI's Staff Council is once again hosting an annual campus-wide food drive and competition benefiting Archie's Closet. Items will be accepted Monday, February 3 through Friday, February 14 at a variety of locations around campus. 
To participate in the food drive competition, offices and/or departments must sign up by Friday, February 7. The team (office/department) that collects the most items from the list below will be named the winner and presented the traveling trophy. Teams are responsible for counting their items and submitting their totals at the end of each week of the competition. Additional details and registration information can be found on the Archie's Closet Food Drive and Competition website.
If you would like to make a monetary donation, please contact Michelle Hahn at 812-464-1807 or dmhahn@usi.edu. 
Donation locations
Business and Engineering Center - Business 
Support Services
Orr Center - Registrar's Office and Information Technology
USI Foundation
Science Center - Biology 
Education Center - Teacher Education and Academic Skills
David L. Rice Library
Physical Plant Service Center
Arts Center
Liberal Arts Center
University Center - Campus Store
Health Professions Center - Nursing and Health Professions
Wright Administration Building - Human Resources 


Needed items
Four-pack toilet paper
Facial tissue
Deodorant
Shampoo
Conditioner
Toothpaste
Oatmeal
Pasta/spaghetti
Marinara/spaghetti sauce
Hamburger Helper
Tuna Helper
Cans of tuna
Cans of chicken
Instant rice or pasta packets
Instant potatoes
Canned beans
Snack crackers
Granola bars
Pudding cups
Fruit cups