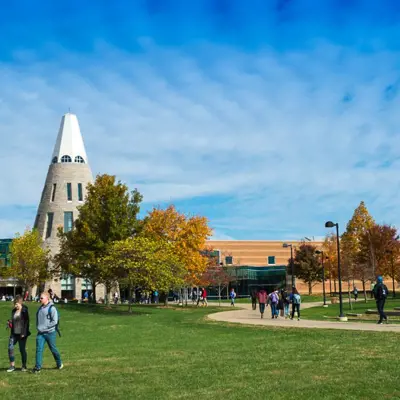 USI Counseling and Psychological Services, Active Minds championing student mental health support
For University of Southern Indiana students to make the most of their time as Screaming Eagles, they must first take care of themselves—student mental health is top priority and essential for success in and out of the classroom. USI Counseling and Psychological Services (CAPS) and the USI student-led Active Minds chapter recognize this, and both are doing their part in offering services to support students through their mental health journeys. 
USI CAPS offers 24/7 service 
Students can seek the assistance of CAPS for a variety of reasons, including adjusting to college life, depression/anxiety, body-image concerns, trauma or other mental health challenges. CAPS offers several services and delivery methods to USI students. There are three therapy options available which can be scheduled virtually and in person, as well as 24/7 support through student-peer support, emotional health support on-demand and health coaching.  
Two 24/7 support options are available to all USI students. TalkCampus allows for instant mental health support through the TalkCampus app, allowing USI students to post anonymously anytime with other students around the world going through the same struggles associated with college. TalkNow, offered through TimelyCare, delivers free, 24/7 access to virtual care, self-care and well-being tools to help students be successful. In order to be enrolled, students must enter their USI credentials, and the resource will then walk them through available services. Within TalkNow, students also have access to one-on-one, unlimited virtual visits with certified health coaches 24/7. 
"By offering both on-campus and virtual therapy options with USI's clinicians, virtual teletherapy, 24/7 TalkNow services via TimelyCare and peer-to-peer support via TalkCampus, CAPS ensures it is offering something for everyone," says Dr. Robin Sanabria, Director for Counseling and Psychological Services. "Whether a student is joining USI as a remote MBA student from Florida, or if they are a traditional freshman living on campus and away from home for the first time, our plethora of services ensures easy access to qualified, licensed mental health professionals in formats offering comfortability within our students' busy lives." 
Active Minds and TimelyMD Partnership 
In addition to the many service options CAPS offers, to further raise awareness of the importance of mental health on campus, students are encouraged to engage with USI's Active Minds student organization. Led by junior Brianna Aldana, USI's Active Minds chapter is one of 600 chapters across the nation empowering higher education institutions to reduce the stigma surrounding mental health, create communities of support and, ultimately, save lives.  
At the beginning of the 2022 Fall Semester, Active Minds and TimelyMD announced joint student ambassador programs at 16 higher education institutions around the nation, including USI, with the goal of driving awareness of, and providing resources for, the betterment and support of students' mental health. Aldana was selected as USI's student ambassador. 
The Active Minds and TimelyMD partnership aims to broaden the conversation about mental health to create a lasting change in the way mental health is talked about, maintained and valued on campuses where both organizations have a shared presence. Given that students are most likely to turn to each other first for emotional support, student ambassadors will have a strong influence on mental health advocacy and education efforts on campus.  
Aldana will promote mental health awareness and resources by hosting campus events and workshops, amplifying positive social media messages and sharing feedback as part of a student advisory group. 
"We all get by with a little help from our friends, and we know peer support is key to creating a sense of belonging among students experiencing mental health issues," says Seli Fakorzi, Director of Mental Health Operations at TimelyMD. "TimelyMD is proud to support the mental health champions leading Active Minds chapters across the country. Together, we have an unwavering commitment to helping students to support each other and seek care when they need it so they can be well and thrive."   
For questions regarding CAPS or mental health support on campus, call 812-464-1867.