Scholarship Criteria
The Harolyn Torain Multicultural Leadership Scholarship is designed to provide comprehensive support to students who demonstrate academic achievement and leadership in diverse organizations, environments, and leadership capacity for civic engagement and within the 21st century workplace. The program offers a $5,000 academic year award ($2,500 for fall semester and $2,500 for spring semester) that is renewable for up to three consecutive years or until the first undergraduate degree is completed, whichever comes first. Additionally, recipients will participate in an Inclusive Excellence Program will include various leadership, community service and cultural experiences throughout the academic year.
Any high school senior who meets the following criteria is eligible to apply for the Harolyn Torain Multicultural Leadership Scholarship: 
Admission to the University of Southern Indiana 
Have a 3.0 cumulative GPA on a 4.0 scale after the 6th semester of high school (end of junior year)
Have demonstrated leadership in multicultural school or community activities or organizations. 
Meet all scholarship application deadlines.
Application Process
The Harolyn Torain Multicultural leadership Scholarship application is an online application submission form. We recommend the following before starting the application:
Compile a list of your involvement in high school and/or community activities or organizations, including dates of membership and any offices held.
Compile a list of awards and honors you have received, the organization giving the award and appropriate dates.
Type out your two-part essay (each essay should be 250 words or less) which answers the following:


Describe how you have demonstrated leadership.
Understanding that diversity is defined as

the inclusion of different types of people in a group or organization, describe your experience with diversity and your commitment to bring diverse groups together. 
Once you have completed these tasks, open the Scholarship application, fill in the necessary information and click submit.
If you have questions or problems filling out or submitting the application, contact USI's Multicultural Center at 812-465-7188.
Important Dates:
December 22, 2023 
USI application, Harolyn Torain Multicultural Leadership Scholarship application and supplemental items due. (Application deadline has been extended to December 22, 2023) (Late applications are not accepted) 
February 17, 2024
Interview day
March 1, 2024 (tentative)
Notification of scholarship recipients
---
About Harolyn G. Torain
---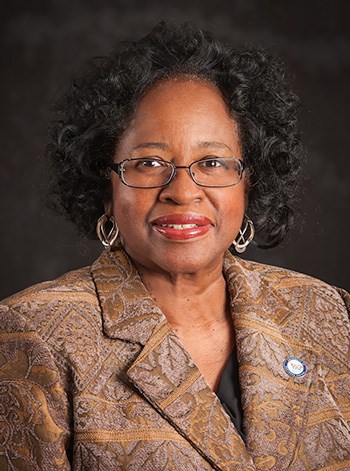 Harolyn G. Torain '71 was the first USI alumni to serve as chair of the USI Board of Trustees. While currently retired, she has over 32 years of educational administrative experience.
A graduate of USI, Torain completed her bachelor's degree in biology in 1971. She later went on to receive a master's degree in secondary education from Indiana University in 1973. Her career in education has included junior high school science teacher, junior and high school science department chair, assistant director of high school evening division, and middle and high school assistant principal.
In her efforts to focus on students, Torain often supervised student activities including service programs, class meetings, cheerleading and senior honors nights. She created an academic honors program and a Saturday school program. She also served as administrator for special education case conferences. 
As an administrator, she worked to develop and implement policies to help faculty and staff, as well as the school. Torain evaluated teacher performance, developed and implemented effective attendance policies, institutionalized performance improvement plans, and supervised clerical, clinic and department staff. Her role within the schools provided an organized approach to the Performance Based Accreditation and the North Central Association visitation.
Torain also has served as human relations coordinator, summer school principal, and supervisor of buildings, grounds, budgets and cafeteria operations. She created a computerized textbook rental procedure, inventory and budget procedure.
Following retirement, she has worked extensively with her church to make a positive difference in the lives of others. She draws people and cultures together through mission work in Guatemala and Okinawa, Japan, and through volunteer work as a docent at the Indianapolis Museum of Art.
She also has been active in the community, serving on many boards and committees including Phi Delta Kappa, Citizens Commission for Indiana Courts, Kingsley Terrace Church of Christ, Association for Loan Free Education, Hoosier Association of Science Teachers, Indianapolis Association of Supervisors, Specialists, Consultants and the George Washington High School Evening Division.
She and her husband, Stephen, reside in Indianapolis.