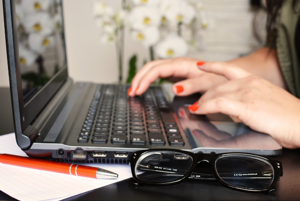 USI Today features a number of ongoing series including "Getting to Know You," "Ask the Expert," "On the Bookshelf" and "Five Tips." These features are some of the most popular reads in USI Today. I would love to hear who you think would make a great subject for one of these articles.
The "Getting to know…" series is a list of often times silly, irrelevant questions posed to the interviewee. It's a way to learn more about the person behind the profession. For example, did you know that walking into Dr. Brian McGuire's (professor of accounting) office is like entering a Disney museum? Or do you know why Stephanie el Tawil, supervisor of Opportunity Development, is "the captain of fun?" Perhaps you didn't know that Andrew Lenhardt, executive director of Human Resources tries to make it to Comic-Con every year. Would you like to volunteer to be featured, or let us know about a colleague with a great sense of humor and an interesting background?
Having a book published is an outstanding accomplishment, which is why USI Today is a great place to let others know that your book is "On the bookshelf." The series spotlights writers who have a published book, giving them the opportunity to provide commentary about the work, writing process and where others can purchase their masterpiece. It doesn't have to be a book based on academic research, although those are most graciously welcome. Dr. Rocco Gennaro, professor of philosophy, was spotlighted for his research on consciousness. Dr. Sarah Stevens stepped outside of academia to write a paranormal trilogy that reimagined werewolves.
The "Five Tips" series calls on useful tips gathered from various areas of expertise that nearly all of us can apply to our personal or professional lives. Dr. Mark McKnight, associate professor of accounting, provided "Five tips for resolving workplace conflict," and Dr. Phoneshia Wells, assistant professor of health services, offered "Five tips to reduce stress."
Another way we ask our talented faculty and staff to flex their intellectual muscles is through our "Ask the expert" series. We take a topic and break into easily digestible segments that give us all a better understanding of the subject. Dr. Jack Smothers, assistant professor of management, identified the qualities of a good manager,   and we learned cyber security best practice from Richard Toeniskoetter, chief information officer.
If you're a good match for any of the above mentioned series or know someone in the USI family who is, send your suggestions to Angie O'Nan, USI Today editor or use our online forms.