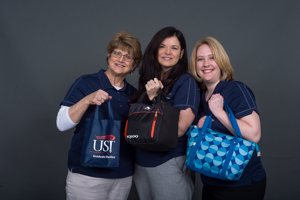 Benefit packets can be intimidating. There are so many details, numbers and choices. It can be quite a challenge to understand what it all means. The Human Resources Benefits Team at USI is finding ways to demystify topics such as benefits, retirements and medical leave, financial wellness, as well as providing other useful workshops that can help in your everyday work life.
Wendy Summers, manager of benefits, and her team are on a mission to bring awareness to the many resources employees could be taking advantage of. One example is the Deaconess CONCERN Employee Assistance Program (EAP.)  While many might think Deaconess EAP only provides counseling sessions, it also offers much more. Did you know they can assist with tutor referrals for your children, elder care, financial and estate planning or legal advice? Those are only a few possibilities. A more comprehensive list is available online.
Additionally, representatives from Deaconess EAP will be coming to campus to fill our minds with useful information while we fill our tummies for three "Bring Your Own Lunch and Learn." Workshops and topics are as follows:
Appropriate Referrals to Counseling from 11 to 11:30 a.m. Friday, March 23
Effective Employee Communication from 11 a.m. to noon Wednesday, April 25
Dealing with Difficult People from 11 a.m. to noon Monday, May 14
Descriptions of each, may be found online.
Summers also collaborated with Tim Mahoney, instructor in economics and academic advisor in the Romain College of Business. Together with Mahoney, her team had discussions about financial wellness and what Human Resources could provide to assist employees in better understanding financial matters. A result of this collaboration is a new web page housed in Human Resources, the Financial Wellness page. This page is full of useful apps to assist with everything from syncing ban accounts to monitoring your credit score. There is information about creating emergency funds, reducing debt and retirement planning, among others.
USI Savings/Retirement workshops are scheduled from 8 a.m. to 4:30 p.m. and again from 10 to 11 p.m. in the evening on Wednesday, March 21. Summers advises not to wait until retirement age to begin retirement planning. "You have to save when you're younger if you want to retire comfortably," she said. "Getting your finances in order as soon as you possibly can is important. Starting when you're in your 20's is not too early." Registration is required for each session. A complete schedule is available online.
Another workshop coming up is Family Medical Leave Act (FMLA) in the Workplace Training. This will cover the responsibilities of both supervisors and employees and expectations of each. Sessions are scheduled from 9 to 10:30 a.m. and 2 to 3:30 p.m. on Wednesday, March 28 and Thursday, March 29 in the Health Professions Center, Room 1027.
Stay current with everything in HR by visiting their website or by following them on social media.