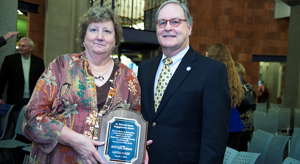 The University of Southern Indiana's Outreach and Engagement is now accepting nominations for the M. Edward Jones Engagement Award through December 3. The award recipient will be announced at the fifth annual Celebration of Engagement from 3 to 5 p.m. Tuesday, February 26, 2019 in the USI Griffin Center.
The M. Edward Jones Engagement Award annually recognizes an individual, group or project for excellence in leadership, commitment to quality, tireless service and dedication to lifelong learning in fulfilling the outreach missions of USI.
"Outreach has always been a vital component of USI's mission and there are numerous individuals on and off campus that continually support that mission through their involvement within the community," said Stephanie El Tawil, Opportunity Development Coordinator. "From non-profit board participation to student mentorship, these engaged individuals go beyond the scope of work to enrich our community. The M. Edward Jones Engagement award provides an opportunity to recognize and reward such leadership."
2018 award recipient, Dr. Jeffery Seyler, professor of chemistry and chair of the Chemistry Department, was acknowledged for his commitment to students and the bonds he creates on campus and in the community.
By Delaney Somers, USI Opportunity Development Communications Intern
The Celebration of Engagement is an annual and free event held to highlight the University's rich history of community partnerships. The 2019 event will be hosted by USI Outreach and Engagement's Lifelong Learning.
For more information about the Celebration of Engagement or the M. Edward Jones award, visit USI.edu/Celebration.