Earn Credit for Prior Learning
Build Game-Changing Skills For Your Career: Start With a Degree in Sport Management From the University of Southern Indiana
Maybe you've played on your high school sports team. You might also be a fan of a college or professional sports team. Take your love for the game to the next level by pursuing a Bachelor of Science in Sport Management from the University of Southern Indiana.
With USI's bachelor's degree in sport management, you'll get an in-depth look into the knowledge and skills you need to lead in careers such as athletics communications, business administration, marketing, sports management and much more. As you're taking sport management courses online at USI, you can tailor your studies to your career interests. We offer concentrations in:
Intercollegiate Athletics
Recreation Sports
Sport and Business Studies
At USI, our Bachelor of Science in Sport Management is accredited by the Commission on Sport Management Accreditation, and we're also known as one of the top sports management colleges in Indiana.
Unlike other sport management colleges, you'll also find that USI features 100% of our sport management courses online. Our affordable and accelerated program — which can be completed in three years — is designed for aspiring professionals who enjoy a fast-paced environment and want to move into jobs with a sport management degree sooner.
What Jobs are Available with a Sport Management degree?
Are you interested in working with professional sports teams such as the San Francisco 49ers or the Tampa Bay Buccaneers? Do you see yourself working in a parks and recreation organization such as the Evansville Department of Parks and Recreation Development, Victoria National Golf Course, or the YMCA of Greater Louisville? Or maybe you want to use a degree in sport management to work with a high school or college sports program or a sports equipment company?
At USI, our graduates have done it all and worked throughout the field with the help of our sport management courses online. Our Bachelor of Science in Sport Management will help you find your starting spot with a team in the industry. We're confident you will find jobs with a sport management degree because overall employment in the industry is projected to grow much faster than the average for all occupations at 13% over the next decade, according to the U.S. Bureau of Labor Statistics.
Adult Student Grant
Are you an adult over the age of 25 living in Indiana and interested in pursuing higher education? You may qualify for up to $2,000 with the Adult Student Grant offered by the state! See below to read more on how you can utilize this grant in our BSSM program, or you can visit the website directly to apply. 
Provide a core curriculum that allows students to acquire knowledge, skills and dispositions specific to sport management.
Facilitate the development of critical thinking and problem solving skills throughout the curriculum.
Facilitate the ability to communicate effectively and persuasively, both verbally and in writing, in leadership roles in various professional settings and work effectively with diverse groups and organizations
Display an understanding of the role and impact of growing and changing technologies on sport experiences of individual and communities and on sport management service delivery.
Develop an appreciation of how sport can promote equity and social justice at the global, national, regional, state and local levels.
Courses within the BSSM are offered entirely online using a learning management system. Access to a reliable computer with internet access is required.
Go Further with an Accredited Sport Management Program.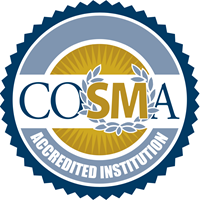 The Bachelor of Science in Sport Management degree program at the University of Southern Indiana has received specialized accreditation through the Commission of Sport Management Accreditation (COSMA) located in Fort Collins, Colorado, USA.
Student Learning Outcomes Data
Learn from experts with diverse sport management experience
When you take sport management courses online from USI, know that your faculty members have extensive industry experience as athletes, coaches and in administrative roles. They also have subject-matter expertise in areas such as physical education, sport diversity and gender, sport marketing, sport organizational behavior and sport sociology. Our Bachelor of Science in Sport Management students gain the theory and practice that helps them find success.
Receive financial support throughout your studies
Unlike other sport management colleges in Indiana and throughout the Midwest, our students are eligible for two awards and four scholarships to help make our low tuition even more affordable. That means you'll be well-positioned when you graduate and pursue jobs with a sport management degree.
Bachelor of Science in Sport Management - Degree Completion Curriculum
Courses are designed using the Quality Matters Rubric Standards based on best practices and research for course design.
Students must complete all university requirements to graduate as follows:
Core 39 courses
120 credit hours
A minimum of 30 credit hours completed at USI
39 credit hours of 300-400 level courses
Students must also complete the following courses within the Bachelor of Science in Sport Management program.
Core Curriculum (51 Hours)
SPTM 228 -

 Principles and Applications of Sport Management

SPTM 283 -

 Career Preparation for Sport Management

SPTM 288 -

 Introduction to Sport Communication

SPTM 305 -

 Practicum in Sport Management

SPTM 332 -

 Sport Facility Management

SPTM 333 -

 Sport Marketing

SPTM 334 -

 Sport Event Management

SPTM 336 -

 Governance and Ethics in Sport

SPTM 353 -

 Sport and Social Media

SPTM 451 -

 Legal Aspects of Sport

SPTM 452 -

 Sport Finance and Economics

SPTM 453 -

 Diversity in Sport

SPTM 491 -

 Managing Sport Organizations

SPTM 492 -

 Contemporary Issues in Sport and Exercise

SPTM 498 - Internship in Sport Management (9 credit hours)
Business Electives (6 Hours)
ECON 175 -

 Fundamentals of Economics

MKTG 313 -

 Services Marketing
Sport and Business Studies Concentration (15 Hours)
SPTM 225 -

 Principles of Intercollegiate Athletic Administration

SPTM 337 -

 Public Recreational Sports Administration

MKTG 201 -

 Introduction to Marketing

MNGT 201 -

 Survey of Management

FIN 201 -

 Fundamentals of Finance
All classes listed above are three (3) credit hours unless stated otherwise.
Earn Your Sport Management Degree on Your Time
The BS in Sport Management program has multiple starts each year, meaning you don't have to wait to start your journey towards completing your degree. 
| | | | |
| --- | --- | --- | --- |
| Course Start | Application Deadline | Document Deadline | Registration Deadline |
| 08/21/23 | 08/04/23 | 08/11/23 | 08/18/23 |
| 01/08/24 | 01/02/24 | 01/04/24 | 01/05/24 |
Get Started on Your Degree in Sport Management
Take the next step on your journey at the University of Southern Indiana and choose one of the best sport management colleges in Indiana. Start your application or request more information today.
---
Interested in a Master's program?
Check our our Master of Science in Sport Management page below.
---