Housing and Residence Life residents must register their vehicle and display a parking permit decal.
To apply a decal:
Make certain that the mounting surface is clean and dry. Peel the backing from the decal and apply in the proper location. Smooth out air bubbles and wrinkles with a clean damp cloth.
Car, Truck, Van, or SUV
Parking decals are to be displayed on the outside surface of the rear window in the lower left hand corner (driver's side) of cars, trucks, vans and SUVs as shown in the examples below.
The decal must be visible from the rear of the vehicle.
The decal must be attached directly to the glass using the adhesive on the back of the decal.
On convertibles, Jeeps, and other vehicles without traditional rear windows, the decal must be displayed on the driver's side rear of the vehicle and be visible at all times while parked on USI property.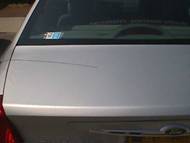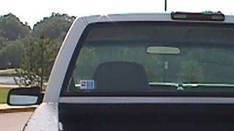 Motorcycle and Two or Three Wheel Motorized Vehicle
The decal must be displayed on the right side of the front fork of motorcycles, motorized bicycles, motorized scooters and other two-wheel or three-wheel motorized vehicles.
The decal must be readily visible when the vehicle is parked.
The decal must be attached directly to the vehicle using the adhesive on the back of the decal.
Applying a decal in any location other than described above may result in your vehicle being ticketed for improper display and the decal being confiscated. A replacement must then be obtained and installed in the proper location and a replacement fee may be charged. If you have any doubts about the correct installation of your decal, call USI Parking at 812-465-1091 and a staff member will assist you with proper application of your decal.
All parking permit decals issued remain the property of the University of Southern Indiana and may be confiscated for improper display or attempts at fraud/deception (displaying a counterfeit decal, attempting to cover or conceal a decal to circumvent the traffic and parking regulations, etc.).