USI Rave Alerts
USI Rave Alert is the University's official notification system that gives immediate messages—via email, text message, and voice message—about emergencies, severe weather, crime and other incidents impacting the University community. Everyone with an active USI email address is automatically enrolled in the Rave Alert system. You can also register your mobile, home or office phone number(s) to receive text and voice alerts and add additional emails if desired.
Accessing Your Rave Alert Account:
Log in to myUSI
Click on the Rave Alert icon under Eagle Apps in the upper left corner of the page. 
On the Rave Alert account screen, you may:
Add mobile phone numbers to receive text and voice alerts.
Add additional email addresses at which to receive email alerts.
Add a landline phone number at which to receive voice alerts.
Confirm your email addresses and phone numbers by pressing the yellow Test button.
Add Rave Alert numbers 67283 and 226787 to your mobile phone contacts.
Rave Alert settings instructions and opt-out information 
While Rave Alerts are the main sources of emergency messages to the campus community, Rave Guardian is a new mobile app that provides valuable added safety features from your mobile device. Read more below.
Log in to myUSI
Click on the Rave Alert icon under Eagle Apps in the upper left corner of the page. 
Click on "My Account"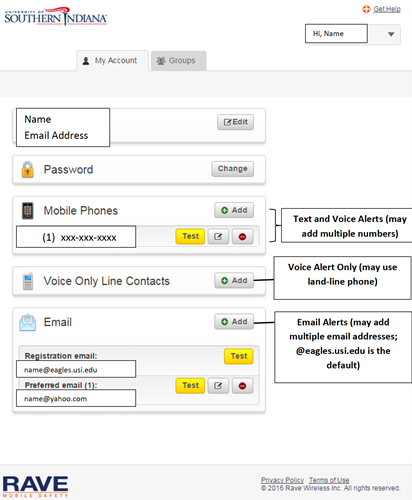 On the My Account screen you can:
Update your name and email address
Update or add mobile numbers for text and voice alerts. (You may add more than one number)
Update or add voice-only numbers including landline numbers
Add or edit additional email addresses.
Update your preferred email address 
If you are no longer affiliated with the University of Southern Indiana and want to completely opt out of future USI Rave Alerts, send an email to IT@usi.edu and, in the subject line and in the body of the message type, "Remove USI Rave Alert Account."
If you are a current student or employee with an active eagles.usi.edu email account, you may not completely opt-out of Rave Alerts*; you will continue to receive alerts to your eagles.usi.edu account. You may, however, edit your account information as described above to remove other email addresses, mobile phone numbers and landline phone numbers from the service.
*The registration process for current students and employees is automated and updated daily. All active eagles.usi.edu email accounts are automatically included. If you use the opt-out method above, your eagles.usi.edu email will be re-added to the Rave Alert service during the next update.
Rave Guardian App

Rave Guardian is a free mobile app available for iOS and Android devices that allows USI students, faculty and staff access to a variety of safety features on their personal devices. The USI features of the app can be activated by anyone with an active USI directory listing. Rave Guardian is available in the Apple App Store and the Google Play Store.
The Rave Guardian app provides several key features that make it an important safety resource for all users.
Safety Timer
The Safety Timer feature allows users to set a timer for the duration they expect to be traveling, regardless of mode of transportation. If the timer expires, the app sends a text message alert to a "Guardian," which is any personal contact designated by the user, that the timer is over prompting them to reach out and ensure the user's wellbeing. If necessary, the designated Guardian can then contact USI Public Safety (if the user is on campus or other USI property) or 9-1-1 to report an emergency.
Chat
The chat function also allows users to directly and, if desired, anonymously contact USI Public Safety via chat to report an incident or request assistance, including the ability to share their location. This functionality works only on the USI campus or in one of the other two campus locations in downtown Evansville and New Harmony, Indiana. The user must manually choose their location. 
USI Emergency
The USI Emergency button allows users to quickly call Public Safety with the touch of a button. This functionality also only works on the USI campus or in one of the other two campus locations in downtown Evansville and New Harmony, Indiana selected by the user. Those off campus should dial 911 for an emergency.
Important Numbers
This button provides access to a wide variety of campus and regional safety and wellness resources that can be called with a single click.
USI on the Web
This button provides one-click links to a comprehensive list of safety- and wellness-related campus resources and departments as well as several off-campus resources.
Inbox
The inbox collects important messages from Public Safety including Rave emergency alerts.
The app is not mandatory, but students, faculty and staff are encouraged to download and use the Rave Guardian app to enhance their personal safety and the safety of others on campus and other USI properties.