Accredited by ABET. 

Bachelor of Science in Civil Engineering (BSCE) program is Accredited by the Engineering Accreditation Commission (EAC) of ABET, http://www.abet.org.
Design infrastructure that solves problems in your community and abroad!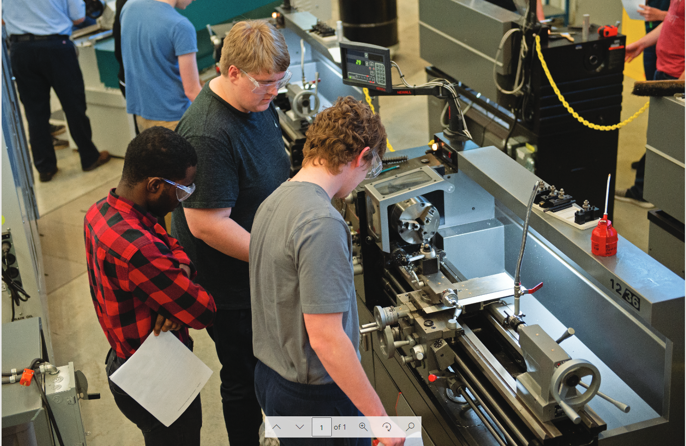 Civil Engineering is a fast-growing field geared toward problem solvers looking to improve and create strong, sustainable solutions for roads, bridges, dams, structures and infrastructure. USI's Engineering Program has a strong reputation for consistently producing graduates that have success in industry and within the profession. Our state-of-the-art labs combined with a variety of engineering coursework will prepare you through hands-on learning opportunities and several annual design challenges like steel bridge and concrete canoe competitions. Most recently, USI's engineering team won first place in the American Society of Civil Engineers (ASCE) Great Lakes Student Conference Mystery Competition that led to building turbidity filters for filtering clay from water. Additionally, a group of students will travel with faculty to Africa in Summer 2019 to build a 95-meter bridge in the community of eSwatini (formerly Swaziland). 
The Bachelor of Science Civil Engineering (BSCE)-specific courses build directly upon the engineering core curriculum of Statics, Dynamics, Thermodynamics, Fluid Mechanics and Strength of Materials. As a civil engineering student, you will take courses that cover the full spectrum of subfields in civil engineering, including structural, water resources, environmental, construction materials, transportation and surveying, construction estimating and management, and geotechnical. These courses will give you an opportunity for significant breadth and depth in the field. 
USI's engineering courses are taught by experienced faculty who are also licensed professional engineers (P.E.) —never from graduate students. In addition, our degree programs offer unique opportunities for you to tackle real-world engineering challenges, both in and out of the classroom. The highlights include:
Applied Engineering Center, an innovative facility equipped with $3.3M of custom-made manufacturing and engineering equipment. 
Small class sizes, in which you know your professors and they know you.
Co-op engineering program, where you'll combine work and study with a professional engineering firm.
Student competition teams in a wide variety of specializations. 
View a list of courses and class descriptions for the Bachelor of Science in Civil Engineering program.
To find out how USI's Civil Engineering Program can prepare you for direct entry into an engineering career, contact USI Admissions at 800-467-1965.
USI's Civil Engineering Program provides experience you can put to use immediately
The BSCE degree program offers you hands-on experiences within each project and laboratory class, opportunities to participate in co-operative education and internships, and an active student organization. You will experience an applied perspective in the classroom with a focus on innovative real-world design problems
Civil engineering graduates are in demand as cities and towns continue to look for ways to improve their aging infrastructures. Upon graduation with a Bachelor of Science in Civil Engineering, you will be qualified for a diverse array of civil engineering career paths, including opportunities in the private sector as a consulting engineer and in the public sector as a government employee. 
Contact USI Admission at 800-467-1965 to learn more about USI's engineering programs.