Accredited by ABET.
Bachelor of Science in Electrical Engineering (BSEE) program is Accredited by the Engineering Accreditation Commission (EAC) of ABET, http://www.abet.org.

Electrical Engineering
Prepare yourself for a profession in the design and development of electrical circuits, power and control systems, electronic components, computer architecture and embedded software. Your education makes you employable in virtually any industry, since all rely on electronics and electrical systems.
See the course requirements for a baccalaureate degree in electrical engineering.
According to the U.S. Bureau of Labor Statistics, the median annual pay (2018) for electrical and electronics engineers is $99,070.

Your professors work to help you reach your goals.
Your education is the faculty's prime focus. They themselves (never grad students) instruct you in the classroom and laboratory. Many bring years of industry experience, supporting your grasp of theory with practical insights. Class size is typically 24 students, and smaller as you advance in your studies. A 16:1 student-faculty ratio and open-door policy make it easy for you to consult your instructors when you need. Meet our engineering faculty.
Engineering electronics for NASA.
In 2016, the College won funding for an advanced engineering challenge: to design, test, deploy and monitor a satellite for NASA. A team of engineering students developed the UNITE CubeSat over the span of about 30 months. Work conformed to NASA criteria, which included more than 100 tests of hardware and systems. NASA launched UNITE on a Space-X rocket in December 2018 and it was deployed from the International Space Station in January 2019. The satellite relays information on location, temperature and plasma and will do so until reentry into the atmosphere terminates its mission. In May it reached a milestone—over 100 orbits.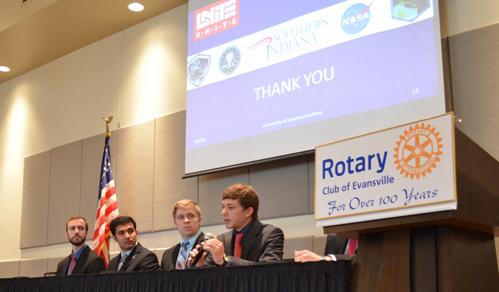 Your decision about college comes down to making the right choice for you.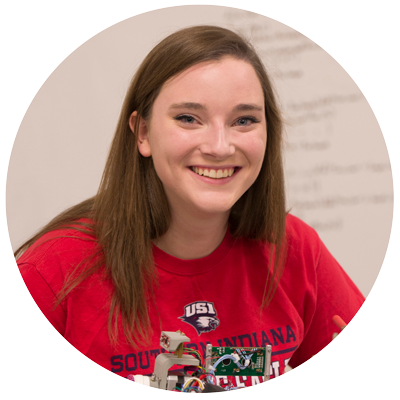 Kelsey Likens '20
Hometown: Boonville, Indiana
Electrical Engineering
I was a junior in high school when I began thinking seriously about what I wanted to study in college. I've always liked math, and I have an interest in computer science, so engineering seemed like a good fit. I considered three colleges, all in Indiana. But I fell in love with USI when . . .
Do you plan to study engineering?
We're here to help you see if USI is the right school for you. Ask our faculty a question or schedule a visit to campus.