Online Employee Directory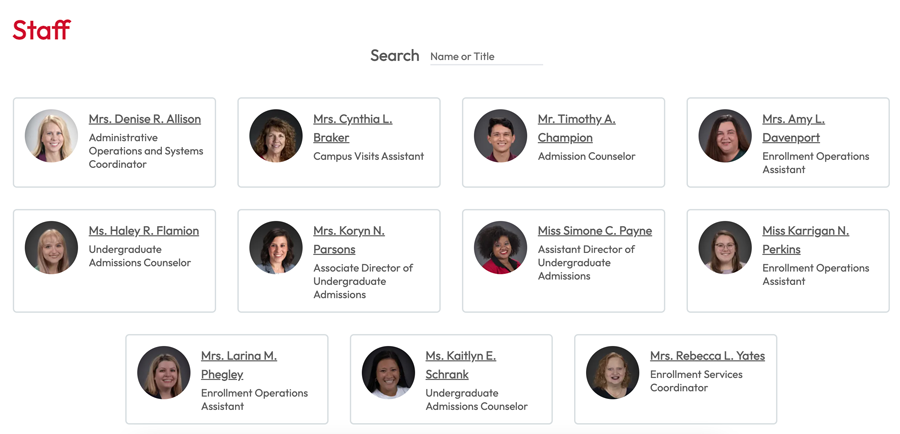 The University Marketing and Communications department maintains an online directory of employees based on official Banner data entered by Human Resources.
The Directory Listing Macro enables the display of employee names, photos, job titles, and contact information on webpages in a consistent, pre-formatted manner. When there are changes in personnel, job title modifications, or updates to contact information, these changes are automatically reflected wherever the macro is used.
There are two methods for utilizing the macro:
Department Listing: This option lists employees within a selected department in alphabetical order. It also provides a search feature to quickly find a person by name or job title. This is the recommended method for faculty listings, by direction of the Provost.


Manual Listing: This option allows for the creation of a list for one or more employees who may not belong to the same department. For instance, it can be used to compile a list of committee members from various departments within the university.
Incorrect directory information can be reported to both University Marketing and Communication and Human Resources to request an update.
Contact Photography and Multimedia to have a new photograph taken.
Request Changes to Directory Information
A Note About Active Employment Roles
Emeritus and Retirees
The directory includes individuals with current "active" job roles, meaning retirees and those with "Emeritus" in their job title are not displayed in the listings. Department chairs have been advised that if they wish to include Emeritus faculty or deans, they should manually list them on a separate page or at the bottom of the faculty listing pages. Since these entries are manually added, someone will need to remove them if the person no longer wishes to be mentioned or in the event of their passing.
Adjuncts
USI has a significant number of adjuncts, some of whom teach throughout the year while others teach only one semester per year. Due to the fluctuating active and inactive status of adjuncts, managing their information requires coordination between HR and University Marketing and Communication. The start of the semester is an incredibly busy time. While new faculty and adjuncts may be teaching on the first day of class, their information may not be updated in Banner until the first pay period at the end of the month. Although there might be a delay, eventually everything will be synchronized. For any missing listings or removal requests, individuals can contact Penny White, who has Banner access and can investigate the status of the process.
Retired/Emeritus and Adjunct:
It is not uncommon for individuals to be retired or hold an Emeritus title while also serving as an adjunct. In these cases, the active role of Adjunct takes precedence, and they will be listed as an adjunct for the department they are currently teaching in.
Common reasons for errors in the directory
New Employees: Due to the number of new faculty or adjunct faculty hired at the beginning of a term, there may be a delay in entering data into the system.
Job Titles/Promotions: Changes in employment status, such as job titles or promotions, may also experience delays in data entry. In some cases, new job titles may not become effective until a specific date.
Official Notice: Occasionally, paperwork may not have been formally filed or processed through Human Resources. In such cases, a payroll notification or additional documentation may be needed to make a change.
Contact Information: Employees and departments can sometimes change locations or phone numbers. Oftentimes, that information is not reported to Human Resources.
How to use the Directory Listing Macro on your site
To Add the Directory Listing Macro to your Page
Using the Rich Text Editor, place your cursor in the text box and click the Macro Button (gears icon) shown here.

In the next screen, search for "Directory Listing".
In the next screen, you're given two options - department listing or manual entry or usernames (as described above).
Click the dropdown box to choose the department you would like to list.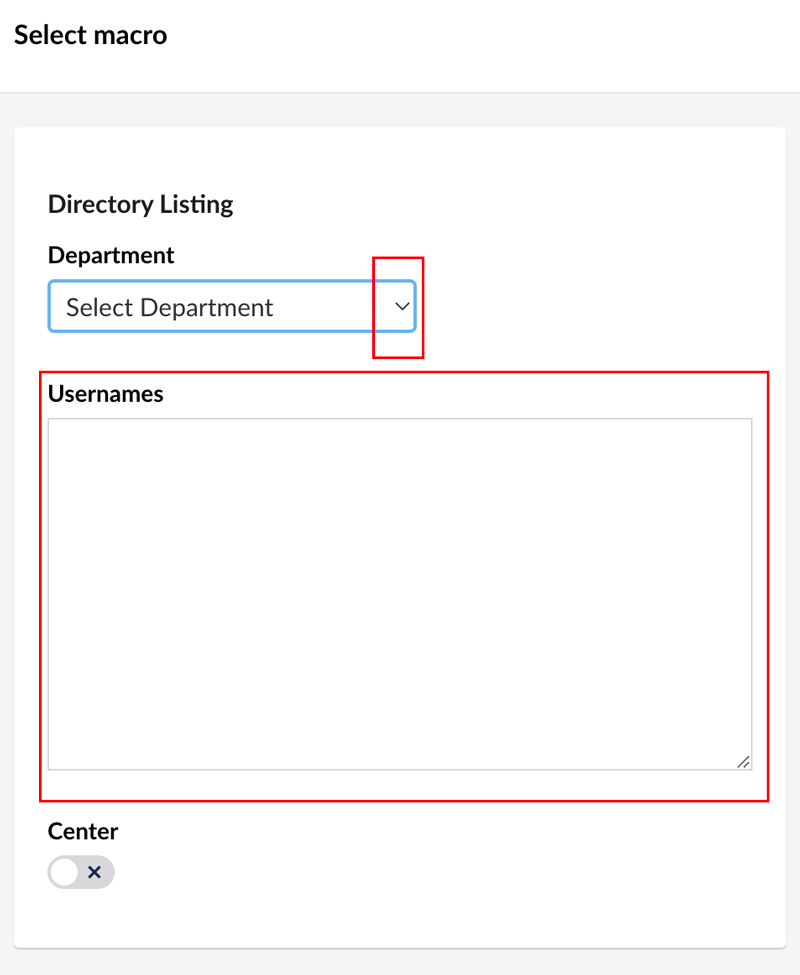 If you would rather use the manual listing of usernames, begin typing the username(s) in the order you want them to appear. Separate names with a comma no space. If you want the names alphabetized you'll need to enter them in that order.
Usernames and email aliases are two different things. Usernames are assigned by IT and are usually the first initial of the first name followed by the last name. Aliases are the vanity emails that may be customized by preference. For this macro to work, you must use the username. Here's an example of each:
aeagle vs. archie.eagle
Editing an existing Directory Listing Macro on Your Page
If your Directory Listing Macro is set to pull in your department, you do not need to make edits to the macro. Changes to personnel or changes in job title and contact information are updated in Banner by Human Resources and then directory changes are made to University Marketing and Communications. If there is an error, use this form to submit changes.
But if your Directory Listing Macro is set to the manual username listing, you can make edits by changing the list of usernames that were previously entered.
In Umbraco, locate the section with the Rich Text Editor using the Directory Macro.  
Click inside the box area that says "Macro alias: directoryListing", then click the little gear icon for the Macro.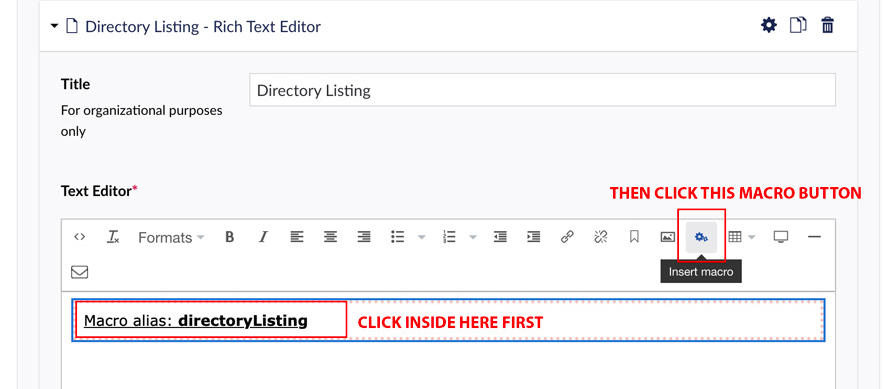 On the next screen, you'll see the Directory Listing Macro opened and the list of usernames. Make your edits to that list.
If there are no usernames listed, check to see if the department is selected to automatically pull in the listing from a department.