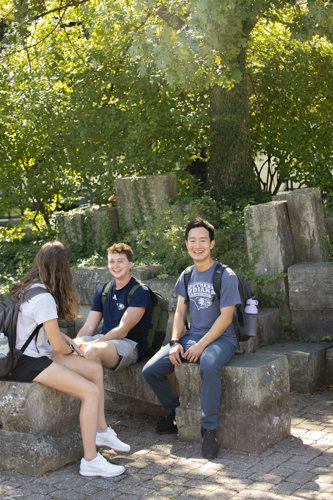 For more reasons than one, I am a proud graduate of the University of Southern Indiana. While the COVID-19 pandemic was a challenge I faced during my years of study, our University proved time and time again that no matter the circumstance, they will see to it we are successful. Even during times of challenge, USI offers a place of reassurance and hope. Many of my fellow alumni would agree with such an assessment.
Former Evansville Mayor Frank McDonald, Sr. once quipped USI as an industry without a smokestack. I am beginning to understand what he meant by this sentiment. Bright and willing students are entering the University with confidence and admiration for their future. We learn, grow, and ultimately become a product of the unique USI education and faculty mentoring. However, Mayor McDonald also understood students themselves must work and show effort in their ambitions. Great things come to those, or a University, who put their nose to the grindstone and roll up their sleeves.
USI set a strong foundation for my medical school studies, provided various opportunities to be in student leadership positions, and fostered an environment to apply the scientific knowledge I've gained through my courses, which resulted being part of a peer review publication in Nature Science Magazine. I came to USI with great aspirations – I knew I must show a commitment to my goals and demonstrate how serious I was, and am, in attaining them. In return, I would be nurtured and mentored to span boundaries and knock down doors.
But still, I realized my success this isn't possible without the alumni and friends who support USI. I was a recipient of a USI Merit Scholarship and it greatly assisted me in my undergraduate experience. This investment is necessary to make this "industry without a smokestack" a reality. Much like an industry needs its own financial leverage to turn a profit, charitable gifts provide the power to fulfil and sustain a student's drive – bringing a return ten-fold to our community, region, state, and beyond.
I am grateful for the thoughtful individuals who enriched my student experience and provided a quality foundation for medical school studies.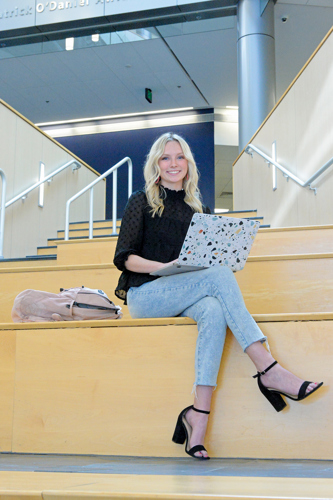 Like many graduates of the University of Southern Indiana, I am a first-generation college student. What that meant for most of us is not knowing how to navigate the college experience. Many students also did not have significant financial resources available. However, overall, we never let it stop us from pursuing a higher education and realizing the USI campus and its people are nothing short of amazing.  
I have been given opportunities I never even knew existed. The faculty are remarkably dedicated. They make me feel at home in the classroom and they give me confidence to perform my best. Specifically, professors in the Romain College of Business are committed to advancing learning and maintaining the high value and worth of our degrees. I am confident after graduation I will be fully prepared to enter my career in marketing. 
Aside from academics, I am a member of Greek life. My membership in Gamma Phi Beta has provided me with so much more than just lifelong friendships. I have gained leadership skills, been held accountable academically, and have been encouraged to build a network of inspiring individuals. Having a group of supportive women with the same values as me has been a true gift during this college transition. I am inspired every day to push myself to become a better person. But to be honest, I have genuinely been supported by everyone at USI. Our campus is filled with devoted staff who are focused on student success. Dedicated alumni and friends of the University additionally believe in our future and helping each student realize their full potential.
The alumni and friends who support this institution have also have a part in my success. Their gifts have provided me a college experience unlike any other. With scholarship help, I can focus more on academics and internships. This alone will put me ahead in the job market after graduation. 
Gifts to USI have no limit on impact. Students like me simply want to leave USI better than we arrived, striving to improve our lives through a higher education. I cannot wait to further prove how the investment in my education has assisted this first-generation college student to take on the world, be a leader in her industry, and contribute back to her community.
At the University of Southern Indiana, students receive more than just an impactful education. While on campus, students form close ties with the faculty and student body to ensure the utmost success in their studies. I am thankful for alumni and friends who have supported and facilitated these meaningful interactions.
USI is so much more than just a university—it is a community focused on sharing enriching experiences. Scholarships are gateways to opportunities for individuals that may not otherwise get the chance to attend college and reap the benefits of immersion in the academic and social settings. This inclusive nature of education touches the lives of driven students striving to make a positive difference.
Contributions to this transformative experience help shape the future of bright individuals committed to making the most of their time at USI. The support individuals give students motivates them to tackle challenging academics, learn valuable skills through internships and job opportunities, and become members of clubs and organizations. Upon receiving a generous gift that covered the cost of my tuition, I was determined to utilize this opportunity to make every day on campus count. Feeling grateful to be able to attend this University, I now give back through service on the USI Foundation Student Advisory Board.
The generous support of others will continue to foster growth on campus and encourage students to go above and beyond for the entirety of their college career.