From the Dean
---
The School of Graduate Studies is pleased to announce that we shall host the seventh annual Graduate Student Colloquium on April 5, 2023. The theme of this year's colloquium is "From Discovery to Dissemination" and it will be again both an in-person and a virtual event so that as many of our current and former graduate students may participate, either as presenters or as audience members. 
Few would dispute that the only thing more exciting than discovering something new through research is the thrill of sharing that discovery with one's peers and colleagues. The powerful emotions we experience while discovering new things and disseminating them serve as the inspiration of the colloquium. The School of Graduate Studies invites all of you to share with us your discoveries at the colloquium. As we approach the end of the fall semester and the holiday season, consider the work with which you have been engaged and ask yourself what you would like to share with us. Within this Newsletter you will find information on how to submit an abstract. Consult your professors for additional advice, suggestions, and encouragement. This is a great opportunity to enhance your academic skills and to develop further as professionals.
Until then, I wish to congratulate all of our students who will earn their degrees in December and who will be recognized for their achievements at Commencement Exercises.  Congratulations to all of you!
Dr. Michael Dixon
Dean, School Graduate Studies
---
Inside This Issue
---
The School of Graduate Studies is excited to announce that we are now accepting abstract submissions for the sixth annual USI Graduate Student Colloquium from all USI graduate students and alumni. To submit your work for consideration, complete the abstract submission online form. Abstract submissions should relate to the theme of "From Discovery to Dissemination". We look forward to reviewing your abstract submission!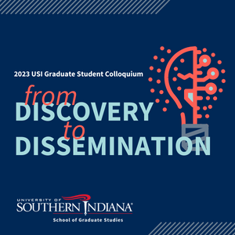 The Fall 2022 Graduation will be held in the Screaming Eagles Arena on Saturday, December 17th. Questions about commencement, view the participation information here.

The School of Graduate Studies wishes you much success. Be sure to stay in touch so we can celebrate your future accomplishments.
Located on-campus in the Orr Center, the CAPS office provides individual and group therapy to students of USI. A team of licensed therapists is available to provide services in-person or remotely via Zoom. Any student enrolled at USI is eligible for services. Visit our website at https://usi.edu/counseling-and-psychological-services or call 812-464-1867 to request an appointment or learn more about our services. If you are in need of services, and located in the state of Indiana, CAPS staff will be able to engage you in services. They can also help provide information regarding their partnerships, including discussing all available options for USI's fully online/out-of-state students. 
TimelyCare
USI partners with TimelyCare, an online platform that delivers 24/7 access to virtual care, self-care, and well-being tools. TimelyCare is a tele-counseling platform that allows you to receive individual therapy and counseling remotely on your device, and regardless of geographic location. They have licensed professionals represented in all 50 states. Other features include TalkNow, a service that connects you with a mental health professional within minutes, and access to health coaching services. To download the TimelyCare app, visit https://app.timelycare.com/
TalkCampus
TalkCampus is a global 24/7 mental health support network for students, combining world class technology, intuitive design, and clinical excellence. Currently supporting hundreds of thousands of students worldwide, this platform offers peer-to-peer support from college students across the world. Visit https://www.talkcampus.io/ or download the app from your app store to learn more.