HRL OFFICE
Monday-Friday
8 a.m.-4:30 p.m.
COMMUNITY CENTER
Monday-Friday
10 a.m.-3 p.m.
LAUNDRY
Laundry rooms in the
Community Center and
O'Daniel South are open 24/7.
SUMMER SHUTTLE
HRL and the Center for International Programs are sponsoring a summer shuttle service for housing residents.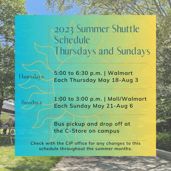 Campus closed May 29 - Memorial Day,
June 19 - Juneteenth, July 4 - Fourth of July
Summer Housing Information
We are happy you chose to live on campus this summer!
Below find information to assist while you live on campus.
Need Assistance
SSA on Call: 812-470-5024
HRL Office: 812-468-2000 Email
Fix My Home
Public Safety: 812-464-1845 non-emergency  812-492-7777 emergency
Dean of Students: 812-464-1862 Email
Facility Projects
During the summer there are contractors and staff in and out of housing buildings conducting maintenance repairs, painting, cleaning and other necessary projects to prepare facilities for the fall. Staff and contractors needing to enter an occupied room will knock and identify themselves. In addition, HRL will make every effort to keep residents informed when work may need to be done in their room.
Parking
Summer residents do not need parking permits. Vehicle registration is not mandatory but strongly recommended.
Food Options
C-Store/Archie's Pizza - Monday-Friday: 10 a.m.-2:30 p.m.
Sub Connection - Monday-Friday: 7:30 a.m.-2 p.m.
Starbucks - Monday-Friday: 7:30 a.m.-1:30 p.m.
Red Mango - (May 15-June 16) Monday-Friday: 8:30 a.m.-1 p.m.
Fun Things to Do
Check out these links for activities around the Evansville area.
E is for Everyone
Visit Evansville
Visit New Harmony
Pedestrian, Bike, and Nature Trails