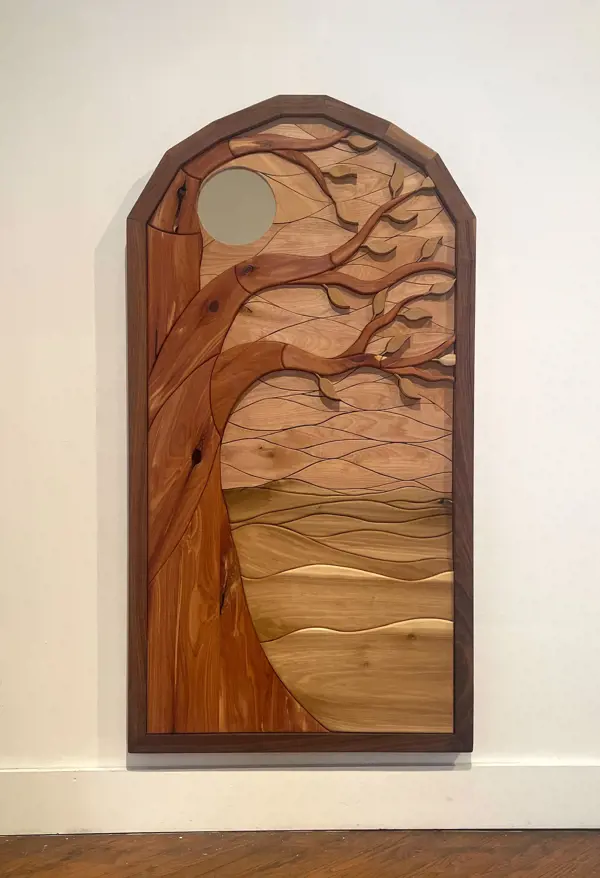 Ally Hinton
Room for Introspection
Curated by Chey Miller
September 10 - November 5, 2022
BG Projects is proud to present Room for Introspection. Room for Introspection is a solo show exhibiting woodworking and painting works by Ally Hinton. The exhibition runs from September 10 – November 5, 2022, with gallery hours from 10:00 AM – 5:00 PM Central, Tuesday – Saturday.
Public Events:
September 10- Soft Opening, 4:00 - 6:00 PM
October 8- Reception, 4:00 - 6:00 PM
In this solo exhibition, Ally Hinton showcases a variety of 2-D and 3-D works — from carved life-sized figures and large-scale intarsias to intricately carved faces and dreamlike oil paintings. In all the pieces, Hinton imbues an intrinsic sense of self-exploration and introspection, with some works acting as self-portraits and others acting as physical manifestations of self-expression.
Room for Introspection acts as a visual manifesto showcasing Hinton's artistic objectives, process, and individuality. Many of these works are derived from physically and technically challenging processes, which speaks to Hinton's inert attention to detail. Considering and determining mass, color, gravity, weight, eye movement, and proportions are all a part of her process—in addition to knowing when to stop, which in itself can be a struggle. She describes working through and overcoming these challenges as a sort of mental battle during the act of creating, further adding to the introspective nature of her work.
---
Ally Hinton is a wood sculptor and oil painter based in Evansville, Indiana. She grew up molding polymer clay figures at her grandmother's house, inspired by family day trips to city museums and childhood imagination. Hinton received her Bachelor of Science in Art from the University of Southern Indiana in 2021. She is primarily inspired by identity, the sense of oneself, and introspection. The process of creating something that was once nothing and the idea of transformation are themes that drive Hinton's work. Her work is not replicable due to her intrinsic individuality, as reflected by her preferred concepts and subject matter, which are derived from her personal experiences.
New Harmony Gallery of Contemporary Art is dedicated to enhancing the experiences of students through an artist-run exhibition space in the Back Gallery. BG Projects at NHGCA allows students to exhibit, experiment, and/or curate within a working contemporary art gallery setting. Through exhibition and curatorial strategies, students can envision new possibilities for collaborations and their art practice.
New Harmony Gallery of Contemporary Art promotes discourse about and access to contemporary art in the Southern Indiana region.
---
Inquires: NewHarmony.Gallery@usi.edu