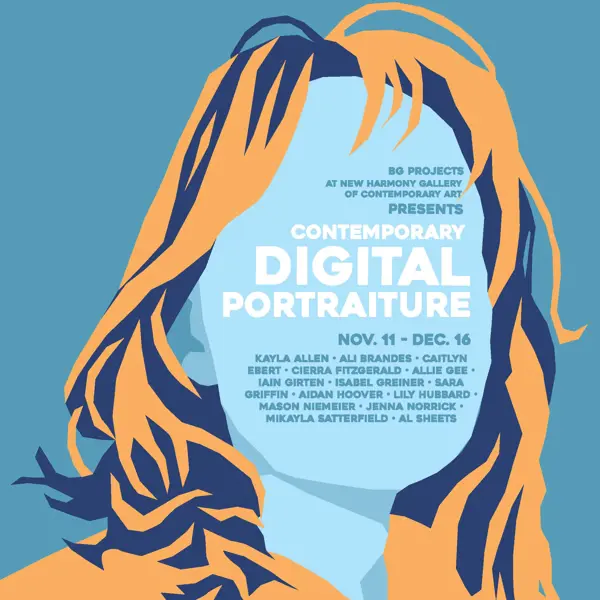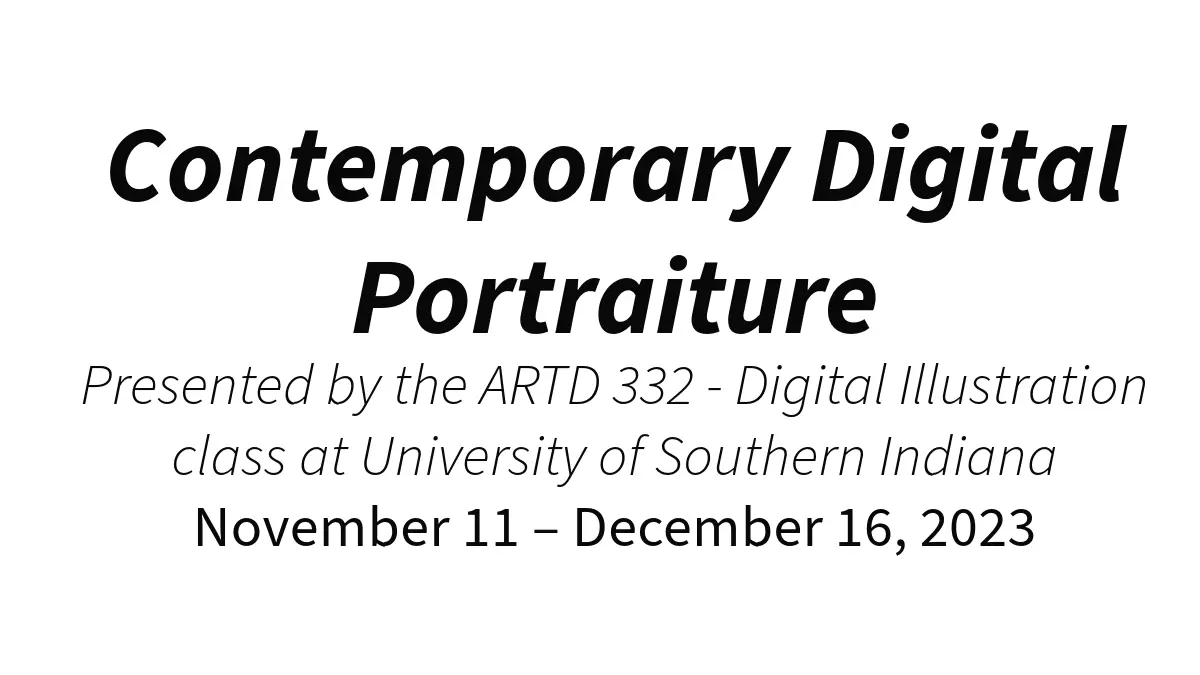 BG Projects at New Harmony Gallery of Contemporary Art is proud to present Contemporary Digital Portraiture, an exhibition showcasing the work of the ARTD 332 - Digital  Illustration  class at University of Southern Indiana. Contemporary Digital Portraiture will be on view from November 11 – December 16, 2023 with a reception on December 2, 4–6pm CT, in conjunction with Christmas in New Harmony.
"This project challenged students to create several digital portraits using different illustration styles such as WPAP, Fleischer, Granular Gradient, Flat, or Line & Shadow. Each portrait was created from photograph using only a mouse in Adobe Illustrator. This project focused on learning how to build a portrait illustration from a reference image, how to use Pantone color books, and further development of abstraction processes and value mapping."
~Greg Blair
Assistant Professor
Artists include:
Kayla Allen 
Ali Brandes 
Caitlyn Ebert
Cierra Fitzgerald
 Allie Gee
Iain Girten 
Isabel Greiner
Sara Griffin
Aidan Hoover
Lily Hubbard
Mason Niemeier
Jenna Norrick
Mikayla Satterfield
Al Sheets
New Harmony Gallery of Contemporary Art is dedicated to enhancing the experiences of
students through an artist-run exhibition space in the Back Gallery. BG Projects at NHGCA allows
students to exhibit, experiment, and/or curate within a working contemporary art gallery
setting. Through exhibition and curatorial strategies, students can envision new possibilities for
collaborations and their art practice.
New Harmony Gallery of Contemporary Art promotes discourse about and access to
contemporary art in the Southern Indiana region.
---
Inquires: NewHarmony.Gallery@usi.edu