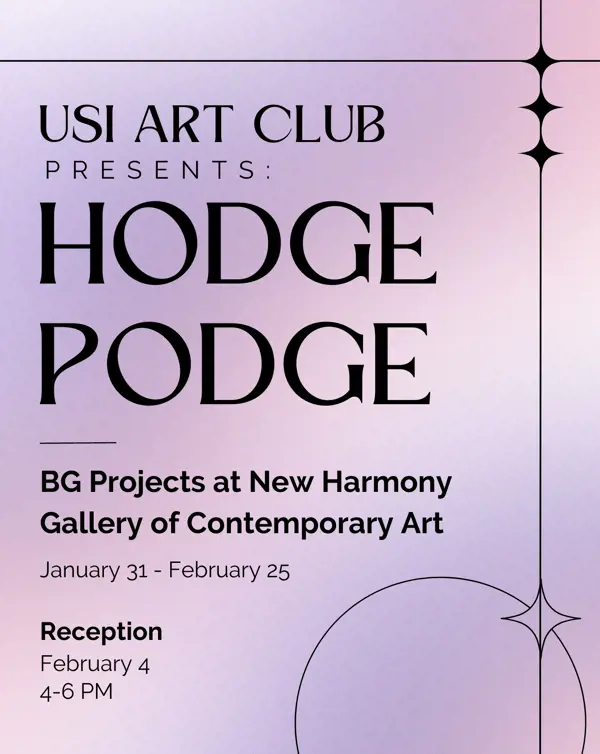 USI Art Club Presents
Hodge Podge
January 31 - February 25, 2023
BG Projects (at New Harmony Gallery of Contemporary Art) is proud to present Hodge Podge, a group show demonstrating the diversity and range of artmaking by University of Southern Indiana's Art Club members. Artists include Breanna Bailey, Elizabeth Bridges, Ethan Brinkley, Tia Brosmer, Violet Thomas-Cummings, Erin Kelly, Katherine Medina-Martinez, Jenna Pajdo, Hannah Rasche, Geneva Sagers, Mikayla Satterfield, Maliah White, and Jade Young. The exhibition opens Tuesday, January 31 with a reception on Saturday, February 4 from 4:00 - 6:00 PM Central. Hodge Podge will be on view from January 31 – February 25, 2023, with gallery hours from 10:00 AM – 5:00 PM Central, Tuesday – Saturday.
In this group exhibition, the members of the USI Art Club organized their work to represent each of their artistic abilities and visions. This work includes 2D drawings in different media such as graphite, charcoal, and ink wash; 3D pieces crafted from found objects; and digital illustrations. The result is a collection of art that displays the diversity and interests of the club, expressing their passion for being a part of a collective artistic community. In the same spirit of the artistic community, the USI Art club is inviting visitors to participate and add to the walls of this exhibition. With walls and pedestals covered in brown paper and available writing utensils, this is an open project that values the importance of response and the participatory nature of art-making and viewing.
The purpose of the USI Art Club is to bring awareness of the visual arts to the university and the community. Membership in the USI Art Club is open to all USI students.
In the past, membership benefits have included: meetings with other students who have an interest in art; collaborative art projects; art tours to Chicago, New York, London and other art centers to visit art museums, art galleries, special exhibitions and other cultural sites; opportunities for students to exhibit and sell their artwork; and participation in Family Weekend, Springfest, and other university-sponsored club events.
One major fundraiser each year allows the Art Club to contribute to student art awards, the art tours, visiting artists, community outreach and other planned projects.
New Harmony Gallery of Contemporary Art is dedicated to enhancing the experiences of students through an artist-run exhibition space in the Back Gallery. BG Projects at NHGCA allows students to exhibit, experiment, and/or curate within a working contemporary art gallery setting. Through exhibition and curatorial strategies, students can envision new possibilities for collaborations and their art practice.
New Harmony Gallery of Contemporary Art promotes discourse about and access to contemporary art in the Southern Indiana region.
---
Inquires: NewHarmony.Gallery@usi.edu