About our Program Student Assistants
New Student and Transitional Programs gives USI undergraduates an opportunity for an on-campus job. We understand that off-campus jobs are not always willing to work around class schedules and are often not an option for some of our students. So, we give the convenience of a job a walk away but still provide meaningful work and involvement within our office.
Our student assistants take on roles incorporating all areas of their strengths and weaknesses. We include and make our student assistants at the forefront of our ongoing projects, student and family interactions, and office program promotion. This paid position is designed around your academic and personal schedule to make your work-life non-stressful.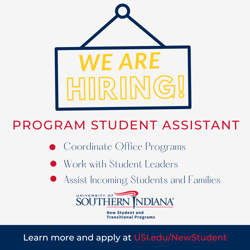 What Will I Be Doing?
Our student assistants take on various roles within our office. We encourage collaboration yet incorporate individual projects as well. As a student assistant, you might...
Make graphics for upcoming campus & office events
Design and co-plan events
Give input on what USI's students need & want
Organize materials and tasks for upcoming programs
Guide new students with orientation questions
Please email questions to amhills@usi.edu.