Accredited by ABET.
Bachelor of Science in Mechanical Engineering (BSME) program is Accredited by the Engineering Accreditation Commission (EAC) of ABET, http://www.abet.org.
As a mechanical engineer, you conceive and design mechanical devices and systems for applications in transportation, HVAC, manufacturing, consumer products and more. From work on smaller components, such as latches on automobiles and heat exchangers in refrigerators, to larger machines, such as terrestrial vehicles and spacecraft, opportunities for you are practically everywhere.
Strength in math is essential.
Your aptitude for advanced mathematics—starting with and building on calculus—is essential to achieving any degree in engineering. See the course requirements for a baccalaureate degree in mechanical engineering.
For an engineering-related program that is less math-intensive, consider advanced manufacturing or industrial supervision. These emphasize hands-on skills in the application of machines and systems for industry.
Did you know? The median annual pay for mechanical engineers is $87,370. U.S. Bureau of Labor Statistics (2018).

Bolster your resume with experience.
As you study, apply what you learn in extracurricular engineering activities, internships and co-ops to gain a head start on a career.
USI's team of engineering students designed and built a CubeSat for NASA; it was deployed into orbit in early 2019.


Apply for acceptance in USI's Technology Commercialization Academy and join a student team which work to develop a marketable product for the Naval Surface Warfare Center, Crane Division.
Take part in the annual robotics competition sponsored by the Institute of Electrical and Electronic Engineering (IEEE). You work with fellow students to design, construct and maneuver a robot through a prescribed course. Read about USI's 2017 championship robotics team.
In 2016, the College won funding for an advanced engineering challenge: to design, test, deploy and monitor a satellite for NASA. A team of engineering students developed the UNITE CubeSat over the span of about 30 months. Work conformed to NASA criteria, which included more than 100 tests of hardware and systems. NASA launched UNITE on a Space-X rocket in December 2018 and it was deployed from the International Space Station in January 2019. The satellite relays information on location, temperature and plasma and will do so until reentry into the atmosphere terminates its mission. In May it reached a milestone—over 100 orbits.
Your professors work for you - and want you to succeed.
You receive instruction by faculty only (not student teachers or assistants). Many have come from successful careers in industry—answering a call to help prepare the next generation of professional engineers.
Class sizes are limited, typically 24 students at most, so it is easy for you to interact with instructors. A 16:1 student-faculty ratio and open-door policy allow ready access to your professors. Meet our engineering faculty.
Your decision on college comes down to making the right choice for you.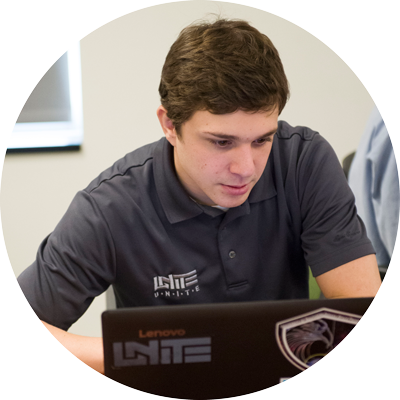 Wyatt Helms '19
Hometown: Alfordsville, Indiana
Mechanical and Electrical Engineering
I come from a family of engineers—both my dad and brother studied engineering. When I was growing up, we raised cattle. I helped on the farm, working on equipment. I like thinking of new things and solving problems. I chose USI because I knew the engineering program is good and the school is only . . .
---
---
Do you plan to study mechanical engineering?
Find out if USI is a good fit for you. Ask our faculty a question or schedule a visit to campus.