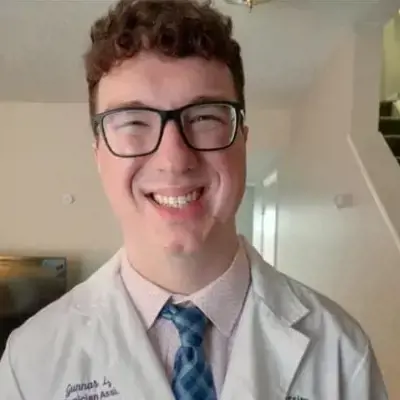 "Gunnar has been an exemplary example of an AHEC success story. He engaged with AHEC in high school, stayed connected during his undergraduate years and then reengaged during PA school as an AHEC Scholar, which strengthened his knowledge and ability to provide high quality healthcare." 
Jane Friona
Executive Director
Southwest Indiana AHEC
Gunnar Lynch is a 2020 graduate of the University of Southern Indiana (Biology major) and a 2023 graduate of the Physician Assistant (PA) Program at the University of Evansville. He currently works as a physician assistant at Shields, Shields & Lally Ocular Oncology in Philadelphia, Pennsylvania.
His first experience with Southwest Indiana Area Health Education Center (AHEC) was when he was a student at Boonville High School and attended the half-day Health Sciences Education program at the Southern Indiana Career and Technical Center in Evansville. "I absolutely loved that program. I met so many people from all across southern Indiana I never would have otherwise, and many of my classmates I still keep in touch with today, as healthcare peers but also as close friends," he says. "Southwest Indiana AHEC made a lot of things we did in that program possible, including funding CPR/BLS certification courses for our entire class. Even today, I'm thankful for AHEC for helping grant us so many opportunities."
Later, as a PA student at UE, he joined the AHEC Scholars program, which is a two-year fellowship designed to give health professions students a deeper understanding of rural and urban healthcare and underserved populations. "I had a great experience with AHEC Scholars," he says. "I think one of my biggest takeaways was from volunteering via AHEC with organizations in my local community. AHEC Scholars allowed me the opportunity to get to know so many people in my community I wouldn't have met otherwise, to go to places where people can receive healthcare and other resources, and to see what kind of impact my local healthcare systems really have in the community, as well as the gaps in care and lack of resources that still need to be addressed."
Lynch says his AHEC Scholars experience gave him additional experience and training in how to interact with both individual patients and diverse patient populations. "One thing I love about being a PA is having the chance to spend time with patients directly, to listen to them, hear their concerns, and work with them to make a plan to address those concerns," he says. "My time in AHEC Scholars deepened my awareness of the kinds of obstacles and barriers to care my patients may be facing that even they may not be explicitly aware of. My role as a PA is not to only make diagnoses and treatment plans or throw sutures in the OR, but to make sure those plans are realistic and achievable for my patient, that they get enough follow up and the resources they need after their procedures or appointments. AHEC Scholars helped me developed the skills to make sure that job gets done."
What led you to a career in healthcare?
When I was four years old, I was diagnosed with acute lymphoblastic leukemia, a common childhood blood cancer. I had to have chemotherapy and other cancer treatments, which required a lot of travel back and forth from Evansville and Indianapolis. I knew from that young age that someday I wanted to do something to help other people who had to go through the kinds of things I went through. I wanted to be like the doctors, nurses, and other healthcare workers that had done so much for my family and me. They were like superheroes to me.
The more I learned about the medical field, the more I realized that healthcare was where I wanted to be all along. I didn't decide on becoming a physician assistant (PA) until late in my college career—up until then I had wanted to be a physician. Just before my senior year of college, I was diagnosed with a second cancer, a rare kind of eye tumor called uveal melanoma. After recovering from treatment in Philadelphia, I put in a lot of thought about what was important to me and what I wanted out of my life. After a lot of reflection, I realized that the path of the PA was what I had been looking for all along. PAs get to focus directly on patient care to a degree no other healthcare job allows, and caring for patients is what it's all about for me.
What does it mean for you to work at Shields, Shields & Lally Ocular Oncology?
This is the same practice that treated me for uveal melanoma. Ever since I was a little boy with leukemia, I have always wanted to do something to help other patients going through similar situations. Being a member of this team finally gives me the opportunity to do that. At the risk of sounding cliché, working for the practice of Shields, Shields & Lally is like a dream come true for me. My role as a PA at the practice is to support a team of highly specialized physicians in both outpatient offices and the operating room. 
Where else have you worked?
My position with the office of Shields, Shields & Lally is my first job as a PA, but not my first job in healthcare. In college, I worked as both a phlebotomist and as a patient care technician (PCT) for Deaconess Health Systems, at both Deaconess Midtown Hospital in Evansville and Deaconess Gateway Hospital in Newburgh. Those jobs taught me so much about how hospitals and the health system really work. I'm very thankful I got some experience doing those jobs before becoming a PA, and I strongly recommend students interested in pursuing healthcare careers to get some entry-level healthcare work experience, if possible.
Why should students apply for the AHEC Scholars program?
I think AHEC Scholars really helped me get a closer look at what healthcare looks like in my community—the tangible, physical, concrete impacts on people—that really helped supplement the more abstract learning or only-in-clinic aspects of my graduate training. I learned so much in the classroom and on rotations, and AHEC Scholars let me see how I can apply what I had been learning the whole time.
I think students should apply for AHEC Scholars if they want to get a little bit of extra experience out in their community, more than what is offered solely as part of their program's curriculum. If you're a student who is interested in learning not only what a disease is, or a what a drug does, or how an insurance system works, but you also want to see how those concepts translate to the real world and impact the daily lives of your patients at home, after they leave your office or the hospital—then AHEC Scholars is right for you.
Anything else you want to add?
I just want to give a big thank you to everyone at AHEC who has supported me in my medical career thus far, especially Krista Kercher and Jane Friona at Southwest Indiana AHEC. I never could have made it this far without your support!