We're happy to have you a part of the CNHP Family here at USI, we might be a bit biased, but we think we're pretty awesome and we love our Screagles!!
Your advisor is here to help you figure out this whole college/adulting thing as much as we can. However, we WON'T call you in the morning to get up for class, and no, we won't GO to class for you. Otherwise, we're here to help but it is a two-way street, you have to read your emails and make appointments to meet with us!
Not sure who your advisor is? The easiest way to see your advisor's name is through DegreeWorks in your myUSI. Once you log in, look for the graduation cap icon, that's DegreeWorks, and your advisor's name will be listed in the information box at the top. If you click on your advisor's name, it's a link to email your advisor too!
All incoming freshmen and "pre" major students are assigned professional academic advisors within the Academic Advising Center. Once students are accepted into their program, they are transitioned to faculty advisors. To make an appointment with your academic advisor, please use AdvisorTrac through your myUSI EagleApps.
Graduate Students and Degree Completion Students: Please contact the Program Chair of your program for assistance with your courses.
NEWS
Registration for Spring and Summer 2023 opens on October 24! Be sure you have met with your Advisor!
---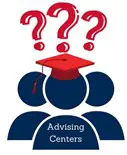 Need to see your advisor?
Log into myUSI & look for the AdvisorTrac icon!