The Romain College of Business Advising Center cares about you as a student. By fostering a trusting relationship, we partner with you to co-create your educational experience, using a holistic approach. We are invested in your intellectual and personal growth, helping you select classes that will challenge you, but also supporting you through academic and transitional difficulties. Our center also assists with career exploration in business, academic planning, and helping you achieve your goals. Let's reach that finish line together.
There's only one you, and your future is our business.
Who do we serve?
First year students entering or students changing their major to a Romain College of Business major. We also process graduation checkout paperwork to ensure you are on track to graduate.
Sophomores, juniors, and seniors who are declared Romain College of Business majors should meet with their faculty advisor about class schedules and career advice.
Not sure who your advisor is?
Your advisor's name can be seen in your DegreeWorks Audit through myUSI. Log in and click the DegreeWorks icon, and you'll find your advisor's name in the information at the top.
Need to schedule an advising appointment?
To make an appointment at the Romain College of Business Advising Center, call 812-465-7028.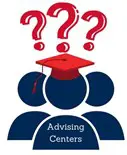 Need to see your advisor?
Log into myUSI & look for the AdvisorTrac icon!
Class override requests
Students, faculty and advisors can complete a class override request online. (Please note that if a class has a waitlist do not use this form to request a closed class override.)