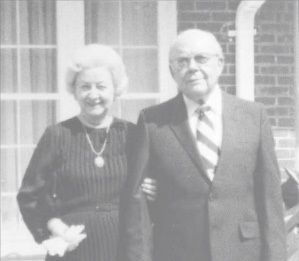 In the fall of 1968, Dr. David L. Rice, president emeritus of the University of Southern Indiana, and Byron C. Wright, vice president emeritus for Business Affairs and Treasurer, met with Mayor Frank F. McDonald Sr. in his office in downtown Evansville. Mayor McDonald was an avid supporter of the young campus and had a profound conviction that the University would be a tremendous benefit for the City of Evansville and the State of Indiana. He often referred to it as "an industry without a smokestack."
The mayor's support was key to the University's success and Dr. Rice and Mr. Wright visited regularly with him to discuss issues affecting higher education on the Evansville campus. At the end of this particular meeting, Mayor McDonald said, "You will need private gifts to help make that place a success. Folks around here will not want to send their hard-earned money out of town, so I suggest you establish a foundation to benefit our University." He then opened his wallet and pulled out two $100 bills. "Here is $100 from me and $100 from my wife to begin that foundation."
Dr. Rice then approached Indiana State University President Alan C. Rankin about creating a foundation, and received further encouragement. In seeking approval from his trustees, Dr. Rankin noted that the establishment of a foundation in Evansville was important. He emphasized Mayor McDonald's point that Evansville-area donors would give more enthusiastically to an Evansville organization. Because the Evansville campus did not have the necessary staff, Dr. Rankin also offered the assistance of the foundation in Terre Haute to help begin this effort.
Frank McDonald had unusual foresight for Evansville and for the University of Southern Indiana. To ensure that we are reminded of that vision, each year the University of Southern Indiana Foundation publishes Faces of Philanthropy: Generous Friends of Vision. The inaugural edition in 2008 commemorated the 40th anniversary of the establishment of the Foundation.
Mayor McDonald's vision for the University and for the USI Foundation, as well as his active work on behalf of these institutions, serves as witness to what great things can be accomplished with collaboration, cooperation, and wise leadership. Frank McDonald's efforts to ensure the establishment of the institution in 1965 have earned him the title of "founding father."