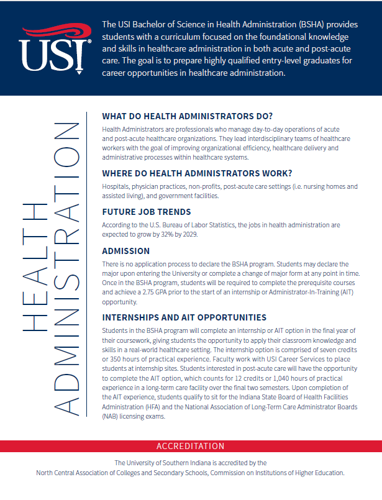 Bachelor of Science in Health Administration
The USI Bachelor of Science in Health Administration (BSHA) provides students with a curriculum focused on the foundational knowledge and skills in healthcare administration in both acute and post-acute care. The goal is to prepare highly qualified entry-level graduates for career opportunities in healthcare administration.
Health Administration Mission, Vision, and Values
Mission
As a community engaged program, with a focus on the healthcare system, the Bachelor of Science in Health Administration (BSHA) program delivers innovative education that prepares fully qualified graduates for health administration positions in acute, post-acute and community care settings.
Vision
Be a recognized leader in preparing future healthcare administrators to positively transform the health of the community.
Values
Leadership: Growing healthcare leaders
Critical Thinking: Challenging students to examine, question, and improve
Forward thinking & Innovation: Engaging in cutting edge initiatives
Global Engagement: Weaving global perspectives into courses, curriculum, and experiential learning
Compassion: Treating people with dignity, respect, and civility
Health Administration Degree Options
The Health Services Program at USI offers a Bachelor of Science in Health Administration major and a minor in Health Administration. 
ABOUT
RELATED CAREERS
LEARN MORE
With a degree from USI, your options are endless, but here are a few careers students in the program may pursue:
---
Opportunities
---
Careers in Health Administration
WHAT DO HEALTH ADMINISTRATORS DO?
Health Administrators are professionals who manage day-to-day operations of acute and post-acute healthcare organizations. They lead interdisciplinary teams of healthcare workers with the goal of improving organizational efficiency, healthcare delivery and administrative processes within healthcare systems.
WHERE DO HEALTH ADMINISTRATORS WORK?
Hospitals, physician practices, non-profits, post-acute care settings (i.e. nursing homes and assisted living), and government facilities.
FUTURE JOB TRENDS
According to the U.S. Bureau of Labor Statistics, the jobs in health administration are expected to grow by 32% by 2029.
---
Spotlight
---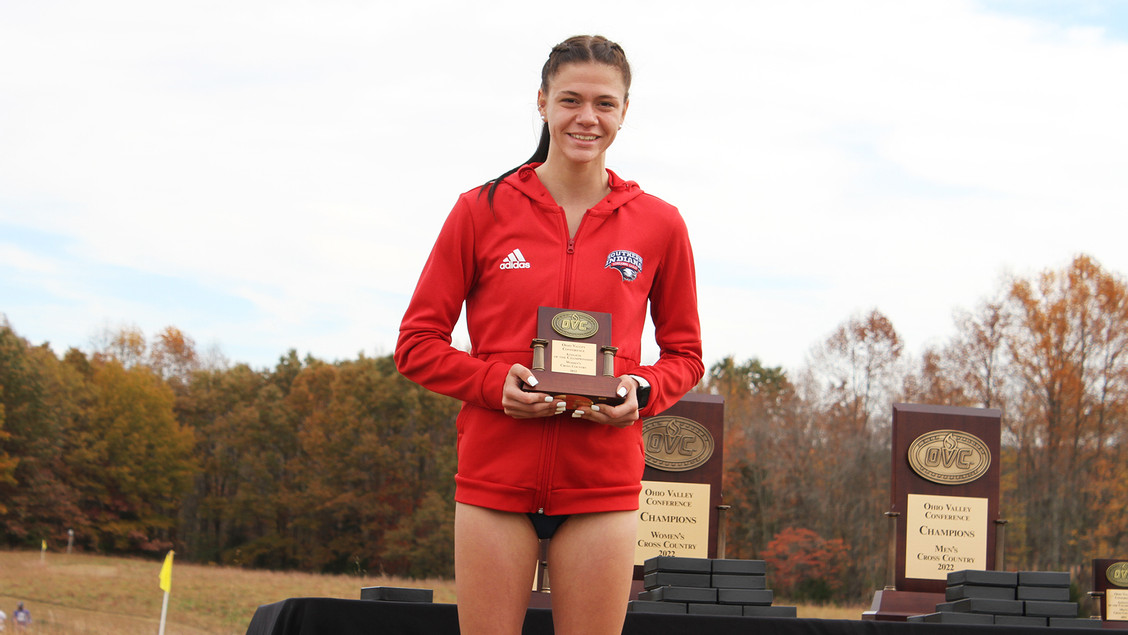 Lauren Greiwe
A junior majoring in Health Administration is the first student-athlete in USI school history to claim a NCAA Division I conference title.