Welcome to the USI Radiologic and Imaging Sciences Program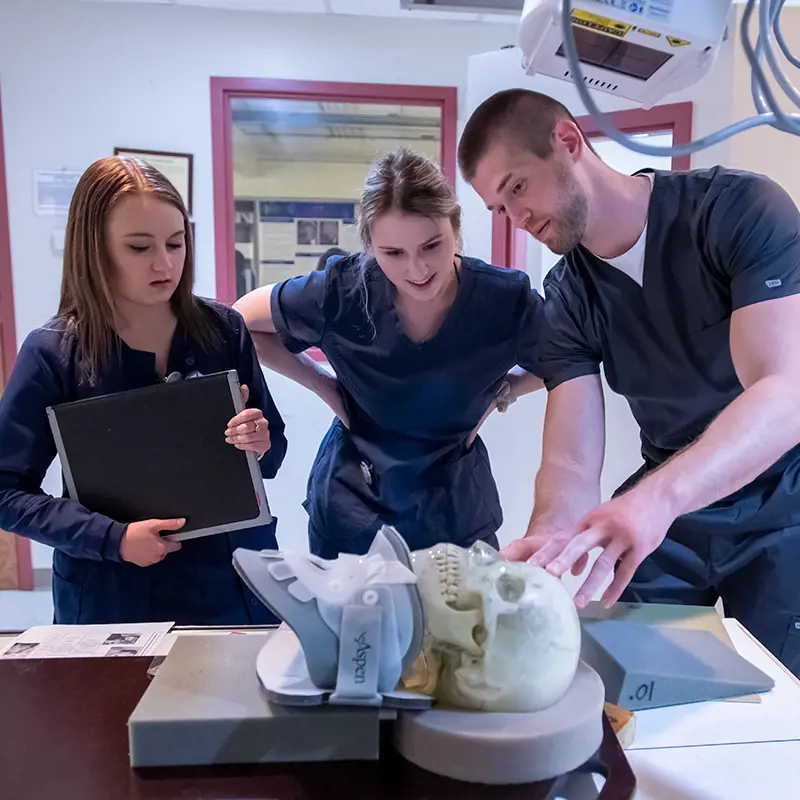 USI offers bachelor's degrees in radiologic technology for:

New undergraduate students
and
Currently credentialed imaging technologists
Get an edge in the job market with USI's radiologic technology degree.
Since 2008, every graduate of USI's radiology program has found a job in radiologic technology within a year of graduation.
Our bachelor's degree in radiologic and imaging sciences offers more hands-on training and direct clinical experience than most radiology degree programs. You'll develop outstanding practical skills in radiology, while building a professional demeanor and strong resume that gets employers' attention.
You'll get hundreds of hours of direct clinical experience in radiology, while:
Taking courses from faculty who have years of experience in radiology and imaging technology.
Getting extensive face-to-face instruction, thanks to USI's small class sizes.
Working directly with state-of-the-art imaging equipment.
Learning advanced imaging software, including picture-archiving and communication systems (PACS).
Training in multiple radiologic technology specialties, including computed tomography, magnetic resonance imaging, and special imaging procedures.
Develop comprehensive skills in USI's accredited radiology program.
In USI's radiologic and imaging sciences bachelor's degree program, you'll perform six practicums (or clinical courses) and get extensive hands-on experience in hospitals, outpatient clinics and other healthcare facilities.
You'll develop a complete set of knowledge and skills, including:
Anatomy and physiology
Positioning and procedures
Radiation safety
Digital image archiving and storage
Image analysis and critique
Contact USI Admission at 800-467-1965 to learn how you can get started in USI's radiologic and imaging sciences bachelor's degree program.
General Disclosure of Program Licensure or Certification Requirements
The Radiologic and Imaging Sciences program prepares individuals for employment in the state of Indiana. Upon completion of the program and meeting all American Registry of Radiologic Technologists (ARRT) requirements, individuals are eligible to apply for the national credentialing examinations administered by the ARRT. If you plan to pursue licensure in a state other than Indiana, please review each state's educational requirements for licensure and certification and state licensing board contact.
Specific information regarding each state's licensure requirements can be found on the American Society of Radiologic Technologists (ASRT) website. If you have questions regarding licensure, please contact Joy Cook at 812-465-1183 or jacook3@usi.edu.
---

Information for Out-of-State Students
Are you an out-of-state student interested in pursuing the Bachelor's in Radiologic and Imaging Sciences degree at USI or determining if the Radiologic and Imaging Sciences Program meets individual state requirements for employment? Check your eligibility.
The Radiologic and Imaging Sciences Program is limited to working with certain states in the U.S. only. Moving into a state not recognized by the Radiologic and Imaging Sciences Program will lead to inability to continue in your coursework. The exception to this is active military status.
Accreditation
The Radiologic Technology Program at the University of Southern Indiana is fully accredited by the Joint Review Committee on Education in Radiologic Technology (JRCERT). As an accredited program, the Radiologic Technology Program is required to meet standards, which can be found in the appendices of the student handbook, or on the JRCERT's web-site: http://www.jrcert.org/programs-faculty/jrcert-standards/. On the JRCERT's web-site, information about the standards, specific program information, and program effectiveness data can be retrieved. The JRCERT posts information regarding the program's (and other programs') five-year average credentialing examination pass rate, five-year average job placement rate, and program completion rate data. This information can be accessed at www.jrcert.org.
The continuing accreditation status of the program was considered at the February 20, 2018 meeting of the Joint Review Committee on Education in Radiologic Technology (JRCERT). The program was evaluated according to the Standards for an Accredited Educational Program in Radiography (2014). The JRCERT awarded the program accreditation for a period of eight years, which is the maximum duration that may be awarded.
The accreditation award was maintained after the Interim report was submitted in 2021 and reviewed in January 2022. The next site visit is tentatively scheduled for the fourth quarter of 2025.
JRCERT
20 N. Wacker Drive, Suite 2850
Chicago, IL 60606-3182
(312)-704-5300
www.jrcert.org