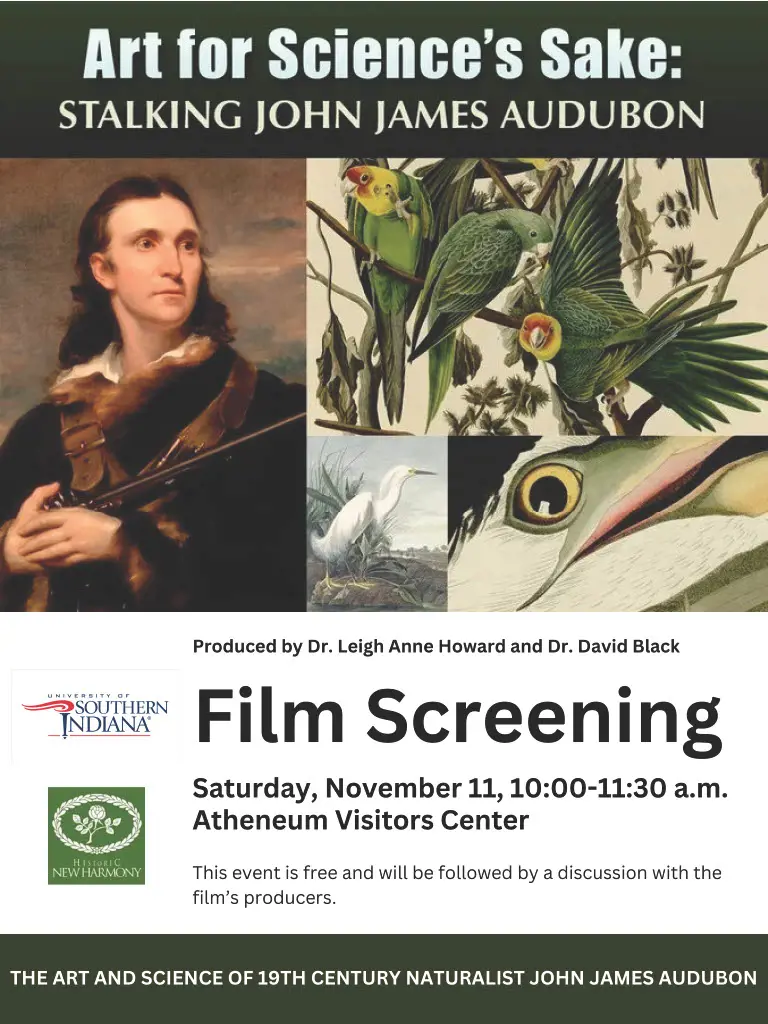 Art for Science's Sake: Stalking John James Audubon
Historic New Harmony will be hosting a film screening and discussion of the new documentary, Art for Science's Sake: Stalking John James Audubon, at the Atheneum Visitors Center on Saturday, November 11, 2023, at 10:00 am.
This one-hour film explores the art and science of 19th century naturalist John James Audubon. Two University of Southern Indiana faculty members, Dr. Leigh Anne Howard and Dr. David Black, produced the documentary after spending 10 years researching Audubon's complicated life and art. Audubon is best known for his life-size illustrations of birds in their natural habitats and for his monumental publication, "The Birds of America." In the documentary, Dr. Howard and Dr. Black interview Audubon biographers and experts about his contributions to the study of birds and demonstrate the stages of production – from drawing to printing to publication – that resulted in "The Birds of America."
"Art for Science's Sake" won the award for Best Hoosier-made Film at the Victory International Film Festival in Evansville, Indiana, in September 2023.
The screening of "Art for Science's Sake" will be followed by a discussion with the film's producers. This event is free and open to the public. The Atheneum is located at 401 North Arthur Street in New Harmony. For questions about the event, please contact Heidi Taylor-Caudill, Collections and Community Engagement Manager for Historic New Harmony, at hltaylorca@usi.edu or 812-682-6133.