Tuesday, September 12, 2023
Historic New Harmony welcomes University of Southern Indiana's freshman class to New Harmony for UNIV101: Screaming Eagle Experience. This event showcases New Harmony as a living learning laboratory and strengthens the connection between Historic New Harmony and the University of Southern Indiana.
Your time as a Screaming Eagle here on campus is one of growth and exploration. Find out how Historic New Harmony can fit into that journey and ignite your passion for learning.
USI's partnership with New Harmony, Indiana, offers an opportunity unique to you as a USI student. Your visit to New Harmony, as part of your UNIV101 courses, will allow space to experience where the University's collaboration with this historic community can fit into your academic career, to discover the resources available to you and to learn how to integrate those into your Screaming Eagle experience.
Situated within the homelands of the Miami and Shawnee indigenous peoples, the town, founded in 1814 as an experiment in communal living, is now home to Historic New Harmony, a USI Outreach and Engagement program. With an entrepreneurial legacy and a history of social innovation and intellectual advances in science as well as public education, Historic New Harmony has been USI's "living laboratory" since 1985.
New Harmony is a place where the public—students, professors, tourists, locals, researchers, artists, recreation seekers, and more—can come together to experience, explore and create.
Group 1
Students board buses at USI: 8:30 am
Buses depart USI: 9:00 am
Buses arrive at New Harmony: 9:30 am
Scavenger Hunt: 9:45 am–11:00 am
Food Trucks: 11:00 am–12:00 pm
Atheneum Spirit Fair: 12:00 pm–12:30 pm
Buses depart New Harmony: 12:30 pm
Buses arrive at USI: 1:00 pm
Group 2
Students board buses at USI: 11:00 am
Buses depart USI: 11:30 am
Buses arrive at New Harmony: 12:00 pm
Scavenger Hunt: 12:15 pm–1:30 pm
Food Trucks: 1:30 pm–2:30 pm
Atheneum Spirit Fair: 2:30 pm–3:00 pm
Buses depart New Harmony: 3:00 pm
Buses arrive at USI: 3:30 pm
Group 3
Students board buses at USI: 1:30 pm
Buses depart USI: 2:00 pm
Buses arrive at New Harmony: 2:30 pm
Scavenger Hunt: 2:45 pm–4:00 pm
Food Trucks: 4:00 pm–5:00 pm
Atheneum Spirit Fair: 5:00 pm–5:30 pm
Buses depart New Harmony: 5:30 pm
Buses arrive at USI: 6:00 pm
UNIV101 Map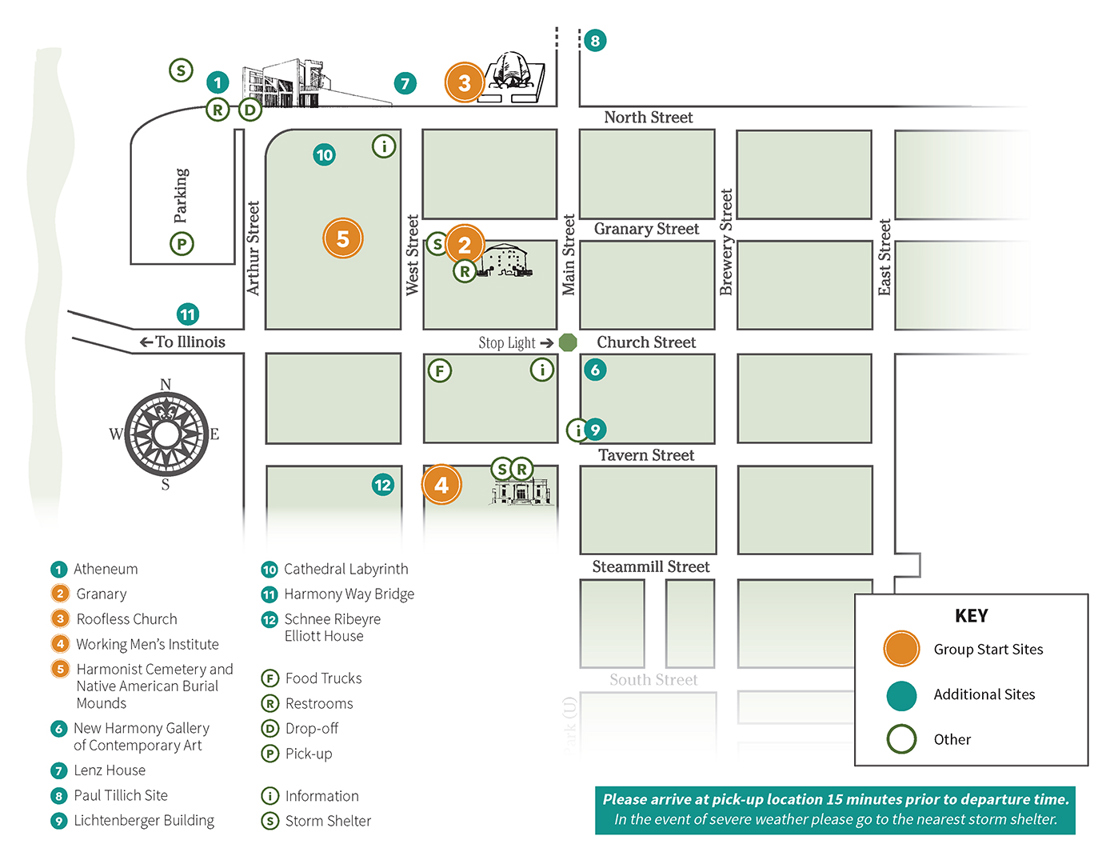 Upon arrival to the Atheneum, each group will be split into 4 teams and proceed to their scavenger hunt starting site:
Rice's Regal Feathers (Yellow): Granary
Hoop's Hundred Whitetails (Blue): Roofless Church
Bennett's Bold Talons (Green): Working Men's Institute
Rochon's Royal Wings (Red): Harmonist Cemetery and Native American Burial Grounds
1. Atheneum Visitors Center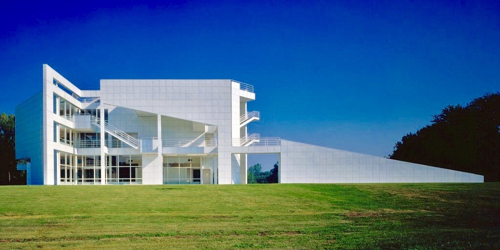 Designed by internationally acclaimed architect Richard Meier, the Atheneum has received numerous design awards, including the Progressive Architecture Award for 1979, the American Institute of Architects Award in 1982, and the Twenty-five Year Award in 2008. The stunning building, which serves as the Visitors Center for New Harmony, houses exhibits on the communal history of New Harmony, a large theater where an orientation film on the town is shown, and the Museum Shop. 
2. Rapp-Owen Granary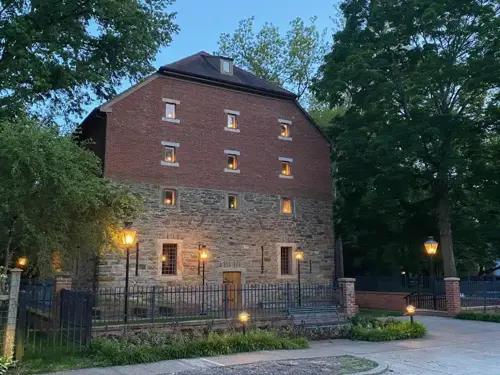 The Rapp-Owen Granary is an outstanding example of Harmonist architecture, originally built by the Harmony Society in 1818 to store grain. It was later used by William Maclure in 1827 and then by David Dale Owen in 1843 as a geological laboratory. After David Dale Owen's death in 1860, the building was used as a mill and granary. In the 1990s, Kenneth D. Owen initiated the restoration of the building, which was completed in October 1999 "for the enjoyment and instruction of townspeople and awareness of visitors."
3. Roofless Church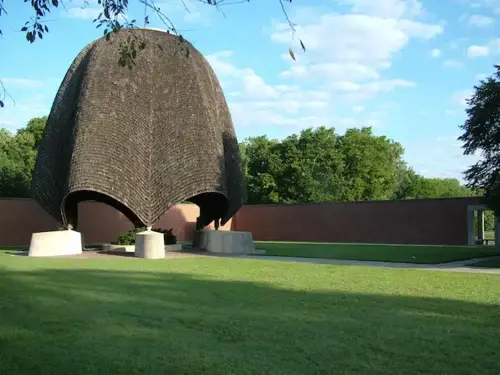 This non-denominational church, funded by the Robert Lee Blaffer Trust and designed by architect Philip Johnson, was dedicated in 1960. Jane Blaffer Owen's concept was that only one roof, the sky, can embrace all worshipping humanity. The dome is in the shape of an inverted rosebud and casts the shadow of a full-blown rose. This ties the modern church to the founders of New Harmony, the Harmony Society, whose symbol was a golden rose. 
4. Working Men's Institute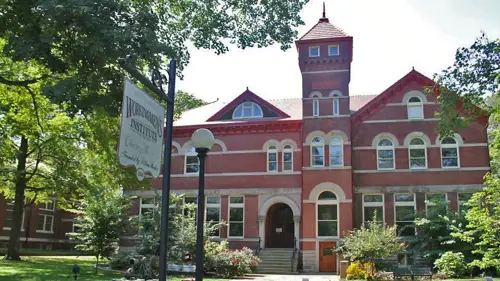 Established by philanthropist William Maclure in 1838, the Working Men's Institute (WMI) set as its mission the dissemination of useful knowledge to those who work with their hands.  Now the longest continuously open public library in the state, the WMI is both a public library and museum and an archive. View the second-floor museum (part cabinet of curiosities and part art museum) while visiting with the volunteers who help manage the collection. 
5. Harmonist Cemetery and Native American Burial Grounds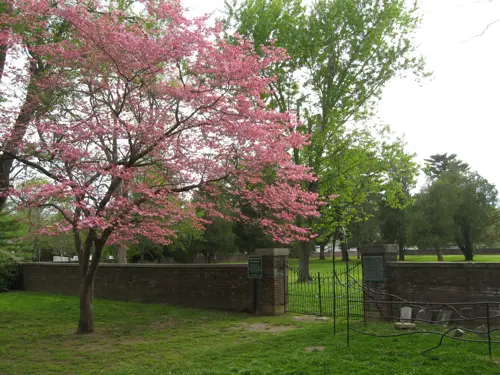 There are Native American mounds throughout the cemetery from the Middle Woodland Period. The Harmony Society used a portion of their orchard as their burial ground. Approximately 230 Harmonists are buried there, but no markers were used, since they believed everyone is equal in death as in life.
6. New Harmony Gallery of Contemporary Art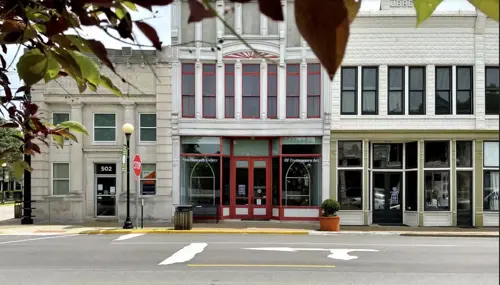 View the current exhibition, visit the Gallery Shop and speak with gallery staff and supporters about student engagement opportunities. In Parallel to the Earth by artist Mary Laub, we see idealized or romanticized versions of mundane objects. These objects are flattened but dimensional. The use of light and shadows allude to things happening in the periphery. Boundaries become demarcations of what we see and what we imagine of diasporic identities.
7. Lenz House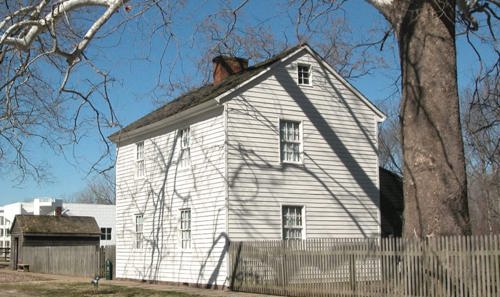 The David Lenz House, a property of the National Society of the Colonial Dames of America in Indiana, was built c. 1819–1822 by the Harmonists and was occupied by the David Lenz family. The house is a typical Harmonist single family frame dwelling. Each Harmonist house sat on 1/4 of an acre, which included a barn and garden area. While each household had a stove in the house, it was used only for heating and cooking. Baking was conducted in a communal oven, and each family had a specific day of the week when they could bake all their breads and pastries. 
8. Tillich Park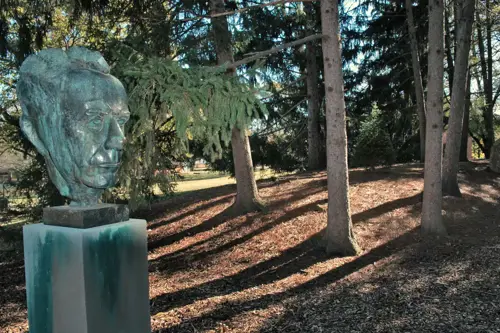 Located to the north of the Red Geranium Restaurant, this park was dedicated in 1963, and named for the Lutheran theologian Paul Tillich. He was present at the dedication and gave an address entitled "Estranged and Reunited: The New Being". Upon his death in 1966, his ashes were interred in the park, and in 1967, a bronze sculpture of Tillich by James Rosati was added. 
9. Lichtenberger Building: Maximilian-Bodmer Print Exhibition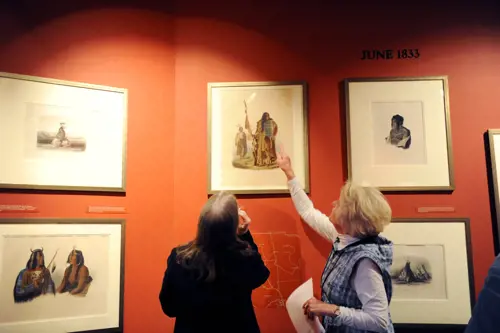 In 1832, Alexander Philip Maximilian, Prince of Weid, began an expedition to explore natural history and the indigenous population of North America. Accompanying Maximilian was Karl Bodmer, a Swiss artist. Bodmer documented the trip with sketches and paintings and assisted with the scientific collecting. Maximilian's two volume account of the expedition, Travels in the Interior of North America, was published from 1838 to 1841. Accompanying the book were 81 aquatints from watercolors by Bodmer. Today, there are fewer than 20 known complete editions of Bodmer's work in the United States.
10. Cathedral Labyrinth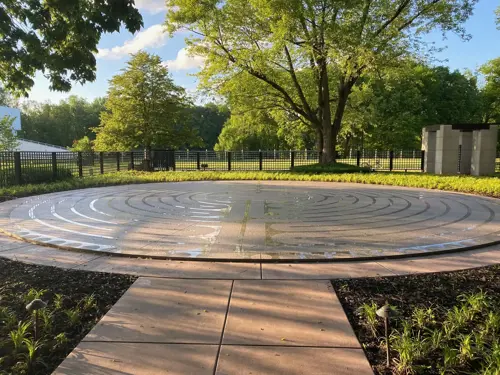 Built and maintained by the Robert Lee Blaffer Foundation, this outdoor site offers an opportunity to walk and meditate on an ancient single path labyrinth. The pattern of this labyrinth duplicates the original at Chartres Cathedral, built in the 12th century near Paris, France. Medieval Gothic Cathedrals across Europe often had labyrinths built into their floors with geometric patterns related to the unity of each cathedral's design. The rose in the middle of the New Harmony cathedral labyrinth identifies its Chartres origin. Enjoy a peaceful walk through the labyrinth.
11. Harmony Way Bridge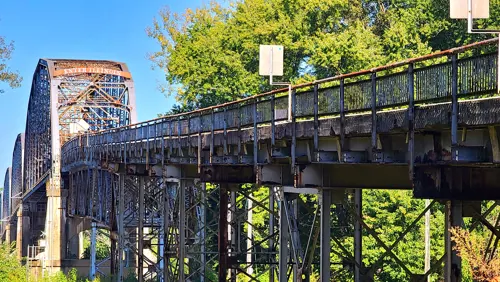 Built in 1930 as the first highway bridge erected across the lower Wabash River, it was the link between southern Illinois and southern Indiana until it closed in 2012. Due to its proximity to historic New Harmony and the age of the bridge, it was put on the National Register of Historic Places in 2007.
12. Schnee-Ribeyre-Elliott House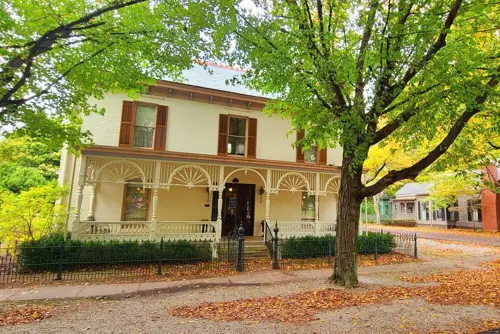 Historic New Harmony is dedicated to providing experiential learning opportunities for students, faculty and staff, which honors the principles of the town's founders by inspiring innovation and progressive thought. We view New Harmony as a living laboratory for ideas—a place where students and teachers, tourists and scholars, leaders and seekers, can come together to experience, explore and create. The Schnee-Ribeyre-Elliott House is USI's Historic New Harmony's office and is a great example of an adaptive reuse of a historic structure.
After visiting an initial site together, each team can split up to choose their own adventure. Participants should visit 5 of the remaining options, and answer trivia questions or complete a challenge at each site!
1. Atheneum Visitors Center
Visit the Atheneum Spirit Fair to compete against your classmates and show your spirit.
2. Rapp-Owen Granary
Originally built to store grain, this building was later used for geologic research. Find the wooden panel on the floor. Under it lies a seismometer to monitor earthquakes. Jump on it to create one of your own and check the monitor to see the results.
3. Roofless Church
Great place for a selfie! Explore the courtyard and find your way to the feature dedicated to grandparents. Read the inscription. What wisdom did your grandparents pass along to you?
4. Working Men's Institute
New Harmony was known for the early pioneer science that took place here. Check out the exhibits on the second floor. What is the strangest animal you see?
5. Harmonist Cemetery and Native American Burial Grounds
How many mounds can you count within the cemetery walls? These mounds are from the Middle Woodland period, around 2,000 years ago. Why do think there are no grave markers from the Harmony Society members?
6. New Harmony Gallery of Contemporary Art
Explore the current exhibit and discover the story behind the art. Art therapy is often used to help people express their feelings. Do you have a method that helps you express yours?
7. Lenz House
The Harmonists were a self-sustaining community. On corners throughout town there was a bake oven. The women would choose a certain day of the week to bake the bread and pies. How do you think they would determine if the oven was the correct temperature?
8. Tillich Park
Find the rest of this quote: "Man and nature belong..." What is meant by this? Do you agree?
9. Lichtenberger Building: Maximilian-Bodmer Print Exhibition
Find the portrait of Mato-Tope, chief of the Mandan Indians. Not long after the Maximilian Bodmer expedition traveled up the Missouri River, the Mandans became a lost culture. Do you know what caused their near extinction?
10. Cathedral Labyrinth
Labyrinths have been used by humankind, including Native Americans, for over 4,000 years. They are often considered a metaphor for life's winding path. Take time to quietly walk this labyrinth and discover its meaning and purpose for you. What do the 6 inner petals mean?
11. Harmony Way Bridge
This bridge has been closed since 2012. Ask the volunteer why and what makes this bridge so unique.
12. Schnee-Ribeyre-Elliott House
Alfred Ribeyre, the second owner of the house, was called the "corn king". Is there anything in the house that reminds you of his title?