General Information Regarding Virtual Private Network (VPN):
The Information Technology Department offers a solution to our faculty and staff who have an ISP (Internet Service Provider) at home, and want to access USI computer resources.
The VPN allows your home computer to appear to USI network resources as though you were on the USI network, not coming in from outside.
Resources not available for access off-campus are accessible using the VPN. This includes, but is not limited to, Banner, network shares and other departmental servers and/or applications.
If you should have any questions regarding these services, please contact our Help Desk at (812) 465-1080 or email us by clicking Contact us in the top right of this page.
Having Issues Logging In?
*You must have Cisco AnyConnect downloaded onto your  device.*
If you do not currently have this application installed, type "https://guard.usi.edu" into your browser and login. You may need to click the dropdown box and switch to USI_Employee.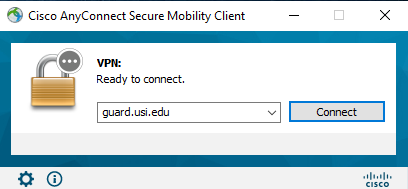 Once the application is installed, open it, and type "guard.usi.edu" and click connect.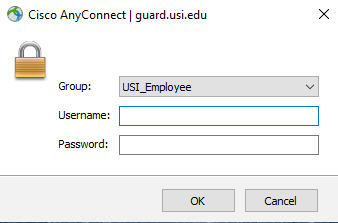 Please switch to the appropriate group. When logging in, enter your username as normal. When it comes to your password you have several options. First you may enter your password normally and go through your elected process of Okta verification. However if your push notification is not coming through, or some other issue complicates this process, you have other options. When entering your password, follow it by"*Password*,123456" or "*Password*,push" or *Password*,sms" or "*Password*,call". 
123456 - code from Okta Verify app
push - trigger push notice to enrolled phone
sms - trigger sms to enrolled phone
call - trigger call verification to enrolled phone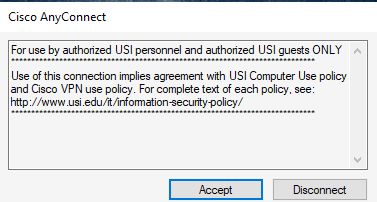 Once you've successfully logged in you will be prompted to accept the terms and conditions of using this application. Accept to proceed.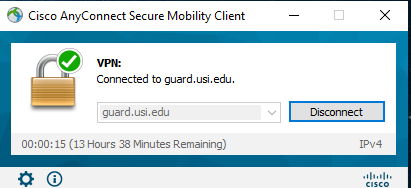 Your window should look like this once connected to the VPN.