Full- and Part-Time Options
Change Your Future With a Doctor of Nursing Practice Degree.
Earn an affordable and high-quality Doctor of Nursing Practice (DNP) degree at the University of Southern Indiana. You will also graduate as a nurse practitioner or with a leadership degree.
Our 100% online BSN to DNP program was created for nurses like you, and with just 10–20 students in each class, you will receive personalized attention from day one.
USI's practice-focused online DNP program prepares you for a wide variety of leadership, research, educational and health care roles. You will practice assessing and diagnosing patients and planning interventions for specific health care needs.
Depending on your unique passions and interests, you can select from among four advanced practice specialty tracks:
Adult Geriatric Nurse Practitioner, Acute
Family Nurse Practitioner
Psychiatric Mental Health Nurse Practitioner
Adult Gerontologic Clinical Nurse Specialist
Have questions about the requirements for our online nursing DNP program? USI's program requires a BSN degree from a nationally accredited nursing program with a minimum 3.0 GPA
What Can You Do With a DNP?
Highly trained and educated health care workers — like Doctor of Nursing practice jobs — are in demand throughout every region and across the nation.
In fact, the Bureau of Labor Statistics predicts that health care employment will grow 16% from 2020 to 2030. This rate is much faster than the average growth for other occupations.
Completing our BSN to DNP program online prepares you for a wide variety of career pathways. You may also increase your salary as a DNP.
With a doctorate in nursing, you may contribute to health care by focusing on:
Scholarly practice: Conduct research and clinical trials and publish your findings.
Nursing education: Teach at the community college or university level.
Health care leadership: Serve as an advocate or expert in your community, state or country.
Nursing care specialization: Continue nursing in one of our advanced practice DNP specialty tracks, including acute care settings
---
Choose Your Specialty Track
---
Course content for all specialty tracks builds upon the Bachelor of Science in Nursing degree and the BSN to DNP curriculum includes a minimum of 78 credit hours.
A baccalaureate degree in nursing (BSN) from a nationally-accredited nursing program and a regionally-accredited college or university earned prior to applying to the BSN to DNP program.
ALL APPLICANTS MUST HAVE a minimum cumulative baccalaureate grade point average (GPA) of 3.00 on a 4.00 scale.  GPAs are reviewed based upon the total BSN GPA.  This includes transfer courses in RN Completion programs.
Satisfactory completion of a course in undergraduate statistics (grade C or better) at the time of application.
An unencumbered US RN license in all states of practice.
Complete application file.
International students may be required to supply additional information as outlined by the School of Graduate Studies.
The online graduate nursing programs are limited to working with certain states in the U.S. only. Moving into a state not recognized by the graduate nursing program will lead to inability to continue in graduate nursing coursework. The exception to this is active military status. Click here to see your availability.
Submit an online application and a $40 application fee.
Upload a current professional resume or curriculum vitae to your application account.

Submit transcripts to Graduate Studies.

 

Official transcripts are required only from the institution at which your highest degree was earned. Electronic transcripts are preferred and can be emailed

from the previous institution

to

Graduate.Studies@usi.edu

 

Unofficial transcripts from other institutions attended can be submitted via email

by the applicant

to

Graduate.Studies@usi.edu

 

Applicants who wish to seek transfer credit for graduate coursework must submit an official transcript from the institution where that work was completed.

 

Mailed transcripts can be sent to this address:


Graduate Studies


University of Southern Indiana

 


8600 University Blvd.

 


Evansville, IN 47712

Read the full transcript policy by clicking here.

International applicants may be required to submit additional information.
Integrate nursing science with knowledge from ethics and the biophysical, psychosocial, analytical, educational, and organizational sciences as the basis for the highest level of nursing practice.
Develop and evaluate care delivery approaches that meet current and future needs of patient populations based upon scientific findings in nursing science, clinical sciences, and organizational, political, and economic sciences.
Use analytic methods to appraise existing literature and other evidence to determine and implement the best evidence for practice.
Serve as a leader in the development and implementation of institutional, local, state, federal, and international health policy.
Advocate for the patients and the nursing profession within government, business, education, and healthcare communities.
Collaborate with interprofessional teams to analyze complex practice and organizational issues in leading change to improve patient, population, and system health outcomes.
Analyze epidemiological, bio-statistical, environmental, and other scientific data related to individual, aggregate, and population health.
Integrate advanced level of judgment, systems thinking, and accountability in designing, teaching, delivering, and evaluating evidence-based care to improve patient and healthcare outcomes.
Are you an out-of-state student interested in pursuing the master's in nursing online degree at USI or determining if the graduate nursing programs meet individual state requirements for employment? Check your eligibility.
The MSN and Post MSN online programs are limited to working with certain states in the U.S. only. Moving into a state not recognized by the graduate nursing program will lead to inability to continue in MSN coursework. The exception to this is active military status.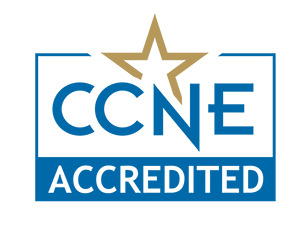 The Doctor of Nursing Practice program at the University of Southern Indiana is accredited by the Commission on Collegiate Nursing Education (http://www.ccneaccreditation.org).
Flexibility for real life
We know your life is busy. That's why we designed our online BSN to DNP program to work for you. At USI, we use an interactive online management system to enhance your learning. Our online technology will record your participation in labs as part of your student engagement. Complete the online nursing DNP program in four years as a full-time student or five years as a part-time student while you continue working.
Program Start
Fall 2024
Fall 2025
Fall 2026
Learn from experienced mentors
When you enroll in our online BSN to DNP program, you'll receive the support you need to accomplish your goals.
Due to this intensive support, our DNP program has a high rate of completion. You'll appreciate the help and encouragement from the first day of class until you graduate with your Doctor of Nursing Practice degree.
In addition to the peer-to-peer encouragement you'll receive from your small class cohort, you will be assigned:
A faculty advisor
A faculty mentor, based on your unique interests for your DNP project
A clinical preceptor as you begin the clinical DNP experience
Begin the Journey From BSN to Doctor of Nursing Practice.
Are you ready to change your future at the University of Southern Indiana? Are you passionate about the work you do as a BSN, but yearn for more responsibility?
If so, our BSN to DNP program online is perfect for you. Start your application or request more information today