Full- and Part-Time Options
Increase Your Impact, Earnings, and Expertise with an Online DNP.
Advance your nursing career and make a greater impact in the fields of health care and nursing by enrolling in one of the most flexible and affordable online DNP programs in Indiana. The University of Southern Indiana's 100% online MSN to DNP program offers a top-quality nursing education from specialized experts who will prepare you for a range of leadership roles that align with top regional and national health care needs.
Choose between two DNP concentrations designed for students who already have a graduate degree in nursing:
Advance Nursing Practice: For nurse practitioners who are interested in integrating evidence-based nursing science with ethics, biophysics, psychosocial science, analytics, pedagogy and organizational sciences to achieve the highest level of nursing practice.
Organizational Systems Leadership: For students with a non-clinical background who are interested in systems leadership, health care policy, strategic planning, resource allocation, technology and informatics to improve health care outcomes.
Either concentration can be completed in two years of full-time study or three years of part-time coursework, depending on your needs and goals. We also offer synchronous online intensives twice a year and accept up to 42 credit hours from your MSN to help accelerate your DNP.
What Can You Do With a DNP?
Whether you're interested in leadership in acute care settings, community and population health, or educational institutions, our online MSN to DNP program will give you the expertise and advanced nursing skills you need to effectively benefit patients, improve outcomes and make meaningful contributions in your chosen health care career. Explore some of the leadership positions that graduates of online MSN to DNP programs can pursue.
Once you complete our online Doctor of Nursing Practice - Post MSN, you'll discover new opportunities to careers such as: 
Program Curriculum for the Doctor of Nursing Practice
You may apply a maximum of 42 graduate credits toward the required 78 hours for the degree. The USI DNP curriculum is built upon three distinct areas of graduate nursing content as determined by the AACN Essentials document. You can then choose one of the two concentrations: Advanced Nursing Practice or Organizational and Systems Leadership. In both concentrations, the plan of study includes the same 13 required DNP courses. Assignments within each course, in addition to the DNP project, will focus topics consistent with each concentration.
NURS 721 - Systems Leadership and Interprofessional Collaboration (5 credit hours)
NURS 724 - Healthcare Policy and Strategic Planning (3 credit hours)
NURS 725 - Resource Utilization in Healthcare (4 credit hours)
NURS 727 - Healthcare Technology and Informatics (3 credit hours)
NURS 713 - Theory and Practice (3 credit hours)
NURS 715 - Analytical Methods for Population-Based Care (4 credit hours)
NURS 717 - Cultural Diversity (2 credit hours)
NURS 854 - Critical Appraisal of Practice (3 credit hours)
NURS 855 - Synthesis of Nursing Practice (3 credit hours)
NURS 866

 - DNP Proposal 1

 (1 credit hours)
NURS 874 - DNP Project 1 (3 credit hours)
NURS 875

 - DNP Project 2

 (2 credit hours)
Go Further with an Accredited Doctor of Nursing Practice Online Program.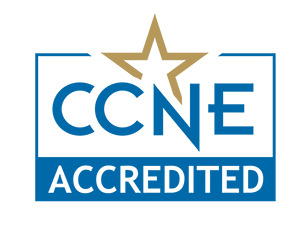 The University of Southern Indiana nurse practitioner programs and clinical nurse specialists' online programs are accredited by the Commission on Collegiate Nursing Education (CCNE). We have a proven track record of positive student outcomes, and our program meets the highest educational standards.
The Baccalaureate in Nursing degree, Master of Science in Nursing degree, Doctor of Nursing Practice and post-graduate APRN certificate at the University of Southern Indiana are all accredited by the Commission on Collegiate Nursing Education, 655 K Street NW, Suite 750, Washington, DC 20001, 202-887-6791.
Earn Your Doctor of Nursing Practice on Your Time
We offer admission into the program once a year and will work with you to provide a plan of study that allows for timely graduation and achievement of your goals. 
| | | |
| --- | --- | --- |
| Course Start | Intensive I | Intensive II |
| Fall 2022 | August 2022 | April 2023 |
| Fall 2023 | August 2023 | April 2024 |
| Fall 2024 | August 2024 | April 2025 |
Real-world capstone project
Complete a capstone project as you move through your DNP courses so that you can apply a real-world project to your nursing discipline or specialty. Although our program is entirely online, your capstone can be implemented in a health care site in your hometown or wherever is most convenient to you. Many of our DNP students pursue quality improvement projects.
A caring environment
Why get a DNP at the University of Southern Indiana? USI's commitment to fostering a caring environment is unique among online DNP programs. We prioritize collaboration between nursing students, alumni, faculty, staff and health care professionals to optimize your personal and professional growth. You'll also be assigned a dedicated faculty mentor based on your specific interests who will support you through every phase your capstone project.
Get Started on Your Online Nursing Doctoral Degree.
Take the next step on your journey at the University of Southern Indiana. Start your online MSN to DNP application or request more information today.