Educational Resources
American Astronomical Society - What to expect on April 8, 2024
The 2017 total solar eclipse was the first to touch the "Lower 48" since 1979 and the first to span the U.S. from coast to coast since 1918. Remarkably, another total solar eclipse is coming to North America on April 8, 2024, just seven years after the last one. This time the Moon's dark central shadow, about 115 miles wide, will cross Mexico, sweep northeast from Texas to Maine, and then darken the Canadian maritimes. A partial solar eclipse will be visible to nearly everyone in North America fortunate to have cloud-free skies. Learn more on the science behind solar eclipses.
NASA - Eye Safety During a Solar Eclipse
When watching an eclipse, you must wear eclipse glasses at all times to protect your vision. It is never safe to look directly at the sun's rays – even if the sun is partly obscured. Find out more about eye safety from NASA's Eclipse website.
American Astronomical Society - Alternative Viewing Methods and Viewers
An alternative method for safe viewing of the partially eclipsed Sun is indirectly. AAS offers ways to safely view the eclipse without special viewing glasses. 
American Astronomical Society - Reputable Vendors for Eclipse Glasses and Solar Filters
A list of reputable manufacturers of solar filters and viewers. These companies products have been certified safe by authorities recognized by the AAS and whose certification has been confirmed to be genuine.
*It's a good idea to plan ahead and order a supply of eclipse glasses well in advance of the event. As we observed in 2017, demand exceeded supply as the date drew near.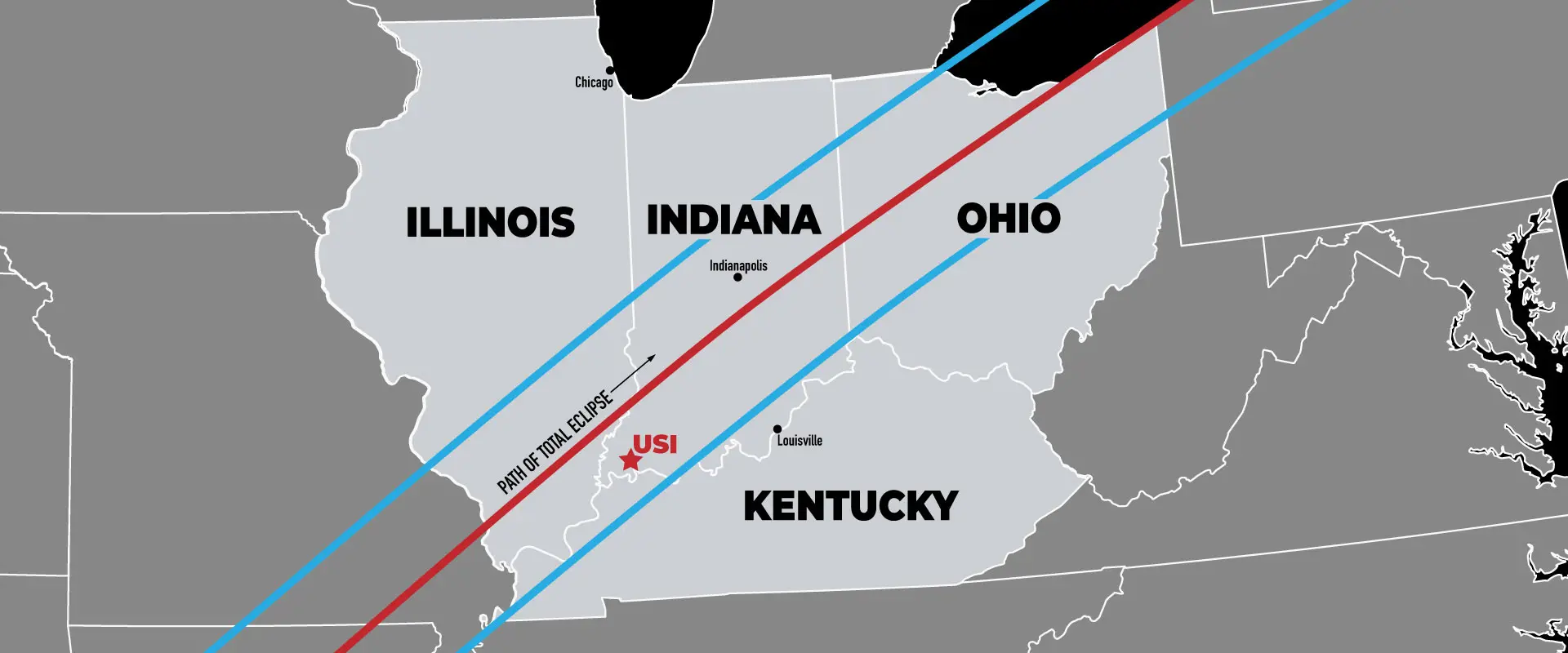 A total solar eclipse will trace a narrow path of totality across 13 states, with Evansville, Indiana, directly in its path. The eclipse will reach the USI campus at approximately 2:02 p.m. CST, with totality lasting 3 minutes and 5 seconds.