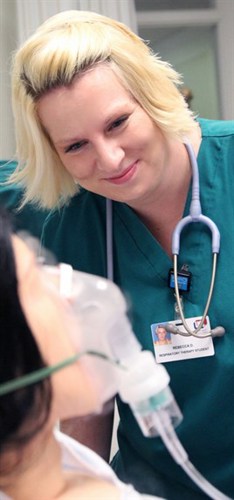 How many students do you accept into your program? 
16
How many applications do you receive? 
30+
How often do you select a class? 
Once a year (deadline varies)
What are the admission requirements? 
Applicants will be scored using a point system: 24 possible points from GPA + 2 possible points from prior or current health care experience. 
What is the deadline for submitting the program acceptance acknowledgment form?
Admission acknowledgment forms will accompany acceptance letters and must be returned no later than 12:00 midnight on the deadline date, TBD, of each application year. Admission acknowledgment forms not received by this date and time will signify an admission decline.
What G.P.A. is required? 
Applicants must have a grade point average in required first year prerequisite courses of at least 2.5 or above based on a 4.0 scale. These courses are designated with an asterisk (*). GPA will then be multiplied by 6 for total maximum of 24 points. Note: GPA points are calculated based on pre-requisite scores and not overall GPA.
What are the prerequisites? 
At least a grade of "C" in the following courses: Biology 121, Biology 122, Chemistry 141, English 101, English 201, Math 114, CMST 101 or 107, Psychology 201, Sociology 121 and HP 115. 
Does an alternate position guarantee an acceptance to this class or future classes?
An alternate position does not carry a guarantee of acceptance to this class or any future class. Each year, students are selected from the available pool of applicants for that year. If students placed as an alternate for one year, they may apply again the following year and be considered again among those applicants.
What if I do not have all my program prerequisites completed by the program application deadline?
Applicants can be accepted "conditionally" provided that all prerequisites are completed with a grade of C or better prior to January 1 or the beginning of the respiratory program in the spring semester.
How long is the program? 
This is 5-semester program (excluding summers) - 120 credit hours total
What degree do I receive? 
Bachelor of Science Degree in Respiratory Therapy
Do I need official transcripts? 
Yes, one copy of your high school and any college transcripts for USI Admissions office and one copy mailed separately to the program.
What is required for application to the program? 
You must apply to USI first and be accepted, and then you must apply to the program. More details are located on the BSRT Program Page
How much is tuition at USI?
For more information about tuition, fees and other costs, visit our Financial Aid Cost of Attendance page.

When will I find out if I am accepted? 
Date varies, according to the deadline each year.
What is the accreditation agency? 
The program is accredited by the Commission on Accreditation for Respiratory Care (CoARC).
Current pass rate of program graduates on credentialing exam:
100%
For salary information: Please visit the U.S. Bureau of Labor Statistics website.
Key features for USI Respiratory Therapy Program Students: 
Students are able to complete all clinical hours in the immediate area.