Historic New Harmony and USI's Center for International Programs offers a Global Engagement Internship each summer to New Lanark, Scotland to work at the New Lanark World Heritage Site.
The internship, which earns a student 3 hours of USI Credit, is connected to USI's Historic New Harmony through the life and work of Robert Owen. Work experience will be available in a variety of areas related to the operation and management of New Lanark World Heritage Site, such as audience research, on-site and digital interpretation, and development of educational material. The New Lanark Trust is in the process of creating a public search room in order to properly support access to its collection of photographs, maps, drawings, and documents. The internship will include development of this search room, which will also allow the collection at New Lanark to be linked to Historic New Harmony and Rice Library. Appropriate majors include, but are not limited to: Business Administration, History, Public Relations and Advertising, Sociology, Communication Studies, Education, Political Science, International Studies, Management, Marketing and Arts and Heritage Administration minors.
Further details about the New Lanark opportunity are available from harmony@usi.edu.
Past student intern experiences in New Lanark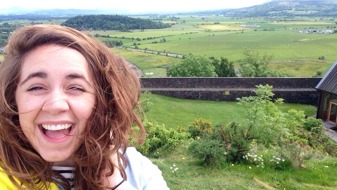 "My time at New Lanark World Heritage Site was a life changing experience for me. As a undergrad, working directly in the archive at New Lanark and with the heritage manager, Jane, was incredibly beneficial for my degree, my work at Historic New Harmony, and my future. The skills I honed in the internship were helpful in the tours I gave at New Harmony and being a part of the program helped stir me in my future academic path as a graduate student at the University of Glasgow in Scotland. I'm so grateful for the chance to be a part of two amazing historic communities and contribute to the preservation of history."
Rachel E. Schumm '16, Bachelor of Arts in History and a Bachelor of Arts in French Studies