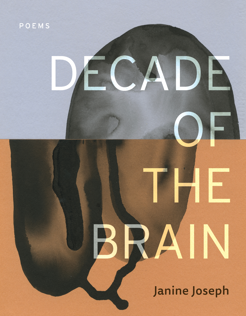 Alice James Books (January 17, 2023)
Janine Joseph's Decade of the Brain is a rattling collection of poetry that speaks to mind and body and how the two can have both dependent and distinct realities. The new collection explores the aftermath of a traumatic accident, often in an attempt to retrace memory and self. In the poem "At the Hawthorne Barbell Club," she asks, "now I am sure I heard the air leave me. / Where, over the seatbelt, did my matter go? // Where did I go, slumped over the seatbelt?" Poetry is an act of remembrance, and yet, what can be done when memory suffers erasure? Where does truth and reality meet, diverge?
Throughout the collection, the mind and the body take on distinct characters. Often moving between the first person "I" and the third person "her," Joseph renders the difference between intention and action, between current self and wounded self, between past and present. Joseph demonstrates the distance that trauma can have on the body and perception of self, "bad body takes a break / like a bone. It balances its head / with a throbbing" and then "bad body is so / negative. Bad body won't get dressed" ("Four Darks in Red"). Joseph also negotiates the body's possibilities. In pain the body is a snake, in love, "I was a globe…a windmill, once" and then "a stream of particulate light" ("Love in the Time of Vertigo").
Decade of the Brain is aesthetically captivating and deeply playful. Joseph uses several forms including erasure, haiku, and a poem in the form of a medical chart. Each form explores some element of experience, be it the falter of memory or the spinning of a car losing control. The poems visually translate how a body may be "swayed in suspension like an empty hammock" or be "thrashed in the gale." Joseph plays with repetition, repeating and rewording phrases and questions as one might when trying to piece something back together. Through the use of unusual sentence structures and fragmentation, Joseph wields language to provoke, to disorient, to liberate.
Joseph balms the ache of trauma, "its crutch of blocks…a crunch // of glass" with exemplary attention to sound. In "Love, Elizabeth" she orients herself through music, "their tittering / I heard, through / the tinnitus" and then, "we sounded ourselves // like keyboards clacking / or lettered dice around / a grid, rattling and never // settling."  Some sounds awaking the reader, others lulling as if to soothe the brain.
Decade of the Brain is a deeply intelligent, often sensory, book about the demanding act of healing, of reorientation, of getting through—be it injury, trauma, immigration, or love: "I hear the seeds I planted are birds now," Joseph writes in "Tell Me of Paradise." And what more could one ask for but to witness such metamorphosis.
---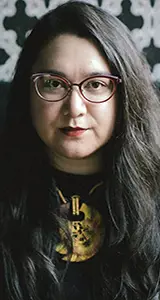 Janine Joseph is a formerly undocumented poet and librettist from the Philippines. She is the author of Decade of the Brain (Alice James Books, 2023) and Driving without a License (2016), winner Kundiman Poetry Prize. She is also co-editor of Undocupoetics: An Introduction, an anthology of poetry and poetics forthcoming from HarperCollins/Harper Perennial. She is an associate professor of creative writing at Virginia Tech.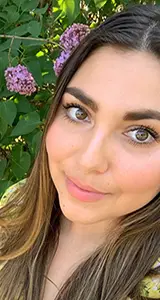 Nicole Lachat was born in Edmonton, Canada, to a Peruvian mother and Swiss father. She earned her MFA from New York University. Her poetry appears on Poets.org and in Tinderbox Poetry Journal, Ruminate Magazine, Bird Feast Magazine, and Palimpsest Magazine, among others. She received the 2022 Wilbur Gaffney Poetry Prize through the Academy of American Poets. Lachat is currently pursuing her PhD in creative writing at the University of Nebraska, where she teaches and works as the Book Prize Coordinator for Prairie Schooner and the African Poetry Book Fund.