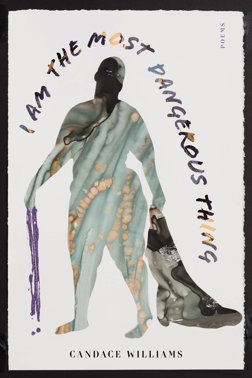 Alice James Books (May 9, 2023)
Candace Williams's I Am The Most Dangerous Thing is an inventive, vivid exploration of contemporary and historical black experience in America. Divided into three sections, the collection explores, in nuanced ways, various kinds of racisms encountered by the black body—structural, personal, medical, and white privilege loom the largest. From the opening offering in which the author unfolds a scene as a child where she experiences a slavery lesson surrounded by white bodies, we, as readers, are let into a world of struggle, hurt, trauma, and agency. 
Williams, in the first section of the collection, shows us snippets of being both a student and a teacher within the racialized system of the United States. Work, capitalism, and the quest for economic survival is never divorced from the color of her skin. In "Desk Lunch Poem," she describes the relatable burden of having to continually labor in order to find acceptance in society. She writes: 
          I eat leftovers
          at my desk
          because being a black
          woman who can always be found 
          working is the only reason
          they let me eat
In another poem, "Commute," she describes her daily trip to work within black skin:
          I remember giving up
          my rush hour seat
          to an older lady
          in a tan trench coat
          who looked down at me
          like she didn't expect me
          to rise for her
          I remember watching her
          realize her own disbelief
          a moment after it hit her face
          hearing a mumbled Thank You
          as she slinked down to her seat
Harrowing as her received experiences are in the labor force, Williams extends compassion to the black students she oversees. Lyrically, she describes invigilating a state test knowing that on the other side are white women graders who "hate my kids because they miss their own." The unfairness that awaits black students historically and in the contemporary atmosphere is not lost on her. This is not the only time compassion and history merge though. In a moving poem "Bop For a Black Man Caged in the Congo and the Bronx," Williams unfurls the story of a Congolese man captured, transported and turned into a spectacle in the 1900s. Through the interplay of history and narrative, Williams not only shines a light on the plight of the black man, but gestures to the fact that America's racisms are always historically grounded. 
Williams sparkles in her examination of generational trauma and fluid use of form. In one of the most engaging poems of the collection entitled "When I was Twelve," she shares being prescribed medication as a child when dealing with the generational trauma of an oppressive society. The doctor doesn't listen to either her or her father, showcasing a silencing of both the black male and female, adult and child. This type of trauma which would come to be scientifically acknowledged years later was dismissed when she tried to express her own lived experiences. 
With regards to form, punctuated throughout the collection are white-out erasure poems of news articles from the 1900s. In these poems, Williams tells a story of language through what is left behind. Words with complicated, hurtful histories come through, such as "negroes" and "police." But also the black voice—emphasizing agency even in that era. In "Lady," the speaker asks in ebonics "me-cheelid, where is me-cheelid?" Form further comes into focus in poems written as death certificates and supreme court decisions. 
While it runs through the entire collection, the central thesis of I Am The Most Dangerous Thing is solidly delivered in the end poems where Williams establishes the black body as a threat in the eyes of the primarily white, American society. Through poems about death and systemic stop and search avowals, among others, she makes it clear the way in which blackness is viewed. Williams could have left it there and that would have been powerful, but the final words of the collection are—"The panther…liberated himself." In such sparse language, she evokes the spirit of the Blank Panther, resistance, agency and the fight for equality. Indeed, it could be said the collection ends on a note of hope.
---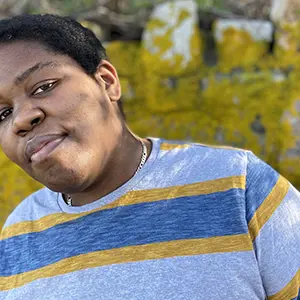 Candace Williams is a poet and interdisciplinary artist. I am the Most Dangerous Thing is their debut full-length poetry collection. Candace earned their Bachelor of Arts in Philosophy, Politics, and Economics from Claremont McKenna College and Master of Arts in Education from Stanford University. They grew up in the Pacific Northwest and found love and poetry in Brooklyn, New York. Now, Candace lives and makes art in New England.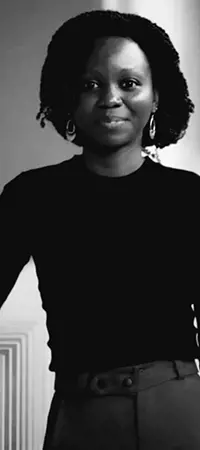 Zainab Omaki is a PhD student in English, specializing in creative writing (fiction). She has a Masters degree in creative writing from the University of East Anglia, where she was the recipient of the Miles Morland African Writers Award. Her work has appeared or is forthcoming from Transition Magazine, Passages North, The Rumpus, and other spaces. Omaki was a 2020/2021 fellow at the Africa Multiple Cluster of Excellence, where she worked on a novel.