The student trustee, a voting member of the nine-member USI Board of Trustees, brings a student's perspective to the governing board. For more than 30 years, a student has served on the USI Board of Trustees. The first student trustee, Eric R. Williams '89, began his term on July 1, 1985. 
Current Student Trustee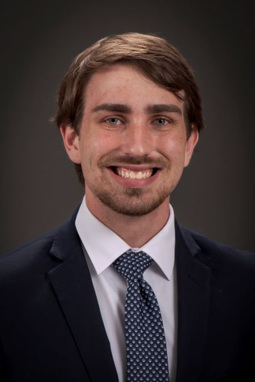 Indiana Governor Eric J. Holcomb has appointed Liam Collins to the University of Southern Indiana Board of Trustees as the University's student trustee beginning July 1, 2021.
Collins, USI Class of 2023, will serve a two-year term as student trustee. A native of Lowell, Indiana, Collins is pursuing a Bachelor of Science in Nursing and is a Presidential Scholar for the Class of 2023. He currently holds a 4.0 cumulative GPA and works as a mathematics coach for students participating in Academic Super Bowl. He is involved in a number of groups and activities including Sigma Pi Fraternity, Special Olympics and College Life at USI Campus Ministry.
Former Student Trustees
Josi M. Barscz '22
2019-2021
Anjali Patel '19
2017-2019
Evan K. Stieler '17
2015-2017
Brenden Davidson '15
2013-2015
Susan E. Ellsperman '13
2011-2013
Lauren K. Gilliam '11
2009-2011
Jamie L. Mull '09
2007-2009
Lauren C. Lutz '07, M'16
2005-2007
Samuel J. Tucker '05
2003-2005
Walter J. Jermakowicz III '03
2001-2003
Ryan A. Helzerman '01
1999-2001
Brian E. Pauley '00
1997-1999
Nicole L. Hume '97
1995-1997
Brent A. Auberry '95
1993-1995
Kristel M. Swan Griffin '93
1991-1993
Brad A Schepers '91
1989-1991
Patrick Leahy '91
1987-1989
Eric Williams '89
1985-1987