Mr. Eric Reffett, CFO of Flanders, Inc., is a member of the Romain College's Board of Advisors, an advisory group composed of senior business leaders who are acquainted with the needs of the community and of commerce and have a strong interest in establishing and maintaining direct and effective communication between the business world and the business classroom. Reffett has been a member of the Flanders team for seven years, and had previously worked at Berry Plastics Corporation as a Regional Plant Controller.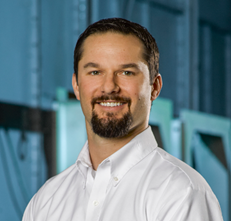 Eric earned his degree in Finance from the University of Southern Indiana.
In addition to his professional career, Eric is involved in the community serving as Chair of Jacobs Village Board of Directors, sitting on the Advisory Board for the Romain College of Business at the University of Southern Indiana, participating in the Parish/Finance council at his local church, and volunteering as a youth archery coach for local schools. Eric and his son Gabe reside in Evansville, IN.
What is your connection to USI, and what makes USI and the Romain College of Business special to you?
As a 2009 graduate of USI and the Romain College of Business, I'm excited to be part of the College of Business as it continues to shape students for the future.  Also, as a member of the local business community, it is encouraging to witness the development of the next generation of employees that we can recruit and employ from local universities.
From your prospective, what is unique about the Romain College of Business?
The Romain College of Business has developed a "hidden gem" appeal over the last several years.  We have established some of the leading programs and opportunities of a larger university, while maintaining the look and feel of a smaller community.
Tell us about some of the highlights as you've advanced in your career path.
Most recently, I had the professional opportunity to travel to South Africa.  During our trip there, we were able to visit a local orphanage and spend time with the children and members of the community.  It continues to be a reminder of the bigger picture outside of work and what we can do both in and outside of our careers to make a difference.
What attributes make a person successful in your industry?
Probably common to most industries, I've found that personal drive, the willingness to learn, and the ability to offer solutions sets successful employees and candidates apart.  Most students won't graduate college with the complete toolset required for their job and career on day one, but the way in which they approach learning opportunities over time will drive how successful they can be.
What is one thing you wish you knew when you were in college?
Even though you're in school to learn, I wish I would have known that you can't learn "everything" while you are there.  I transitioned to predominantly night courses my second year of schooling while I was working, and it really helped to bridge that gap.  Being able to experience practical applications of what I learned in school and applying it to what I needed to be successful in the workplace was very helpful.
What advice would you give a recent college graduate?
Don't be afraid to take risks and get in on the ground level.  Depending on the industry and your educational background, challenge yourself to work with all levels of a company and learn everything you can.  You'll be amazed how that will enhance your individual role and provide mutual respect among your peers.
How would you finish this sentence: If I were back in college, I wish I would have gotten a better understanding of________________.
People!  Obviously, this will be a life-long learning path, but in all aspects of business, it's really about people and working with others.  Whether you're negotiating, team building, or working with customers, you're constantly engaging people and having to understand how different people operate and are motivated.
What are some challenges you see your industry facing in the short-term and in the long-term?
Our primary industry is energy and coal mining.  The short-term prospects have improved relative to recent years because of the current political administration, but there is always a risk that regulatory bodies or government agencies will have a negative future impact.  From a long-term perspective, alternative energy options and the changing price of natural gas will have an impact on coal production.  Our strategy when addressing these issues is to create parallel uses of our innovation and technology in other industries.
Who do you think are the most important/influential people in your industry today?
Mining and energy are such broad sectors that its difficult to pinpoint the single most influential individuals.  In the U.S., leaders like President Trump and Elon Musk can create significant impact by the policies they enact or the technology advancements they develop.  Globally, there are various key mining players that are driving significant improvements in safety, automation and production.
What's the most effective daily habit you possess?
It's probably far from effective, but prayer and time to reflect keep me grounded daily.  Work will have its ebbs and flows and, depending on your circumstances, can be a stressful environment.  I've found these practices provide me with daily perspective and energy.
What factors do you consider most often when planning for the future?
From a professional perspective, it's a challenge to forecast the impact technology and changing industry trends will have on your company and personnel.  Personally, and for my team, we try to focus on developing skills and traits that will align with technological advances. 
What are you passionate about?
Professionally, I'm passionate about driving continuous improvement and change in an organization to ensure a company and its employees can achieve high levels of success and growth. Personally, I enjoy spending time with my son and being outdoors.  We also take advantage of various volunteer activities such as working with Jacobs Village and helping with local youth archery.
Published August 28, 2018