Mr. Ken Sendelweck, VP, Financial Advisor with Merrill Lynch, has held a variety of executive positions and has actively served his community in various leadership capacities for over 35 years. He holds a bachelor's degree in accounting and finance from USI and was a Certified Public Accountant and Certified Treasury Professional. He is currently First Vice Chair of USI's Board of Trustees.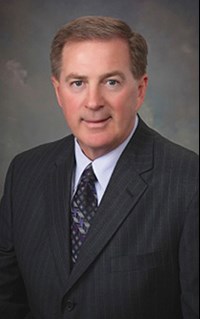 What is your connection to USI, and what makes USI and the Romain College of Business special to you?
I am a very proud '76 alumni and a very privileged USI Trustee (First Vice Chair). As a first generation college student in my family, my college education and life experiences while attending ISUE were true catalysts for me to pursue my dream professional career(s). It would not have happened without ISUE/USI.
From your prospective, what is unique about the Romain College of Business?
Quality quality quality. Everything is committed to being the best: students, faculty, institution.
Very diverse learning opportunities. Growing experiential avenues.
Tell us about some of the highlights as you've advanced in your career path.
Being named USI Distinguished Alumni and USI Accounting School Distinguished Alumni.
Jasper High School Distinguished Alumni.
Foundation of Jasper Award and Jasper Chamber Community Excellence Award.
What attributes make a person successful in your industry?
Integrity. Compassion. Work ethic. Humor. Personal life balance.
What is one thing you wish you knew when you were in college?
Have a better balance between educational and social priorities from Day 1!
What advice would you give a recent college graduate?
Never stop learning  . . . never ending journey to improve and expand my skillsets.
What's the most effective daily habit you possess?
Daily prayers and meditation. Understand what my priorities of focus are for the day.
What factors do you consider most often when planning for the future?
What is my 'end in mind'; that is, if my plan is successful, what will I have accomplished?
What are you passionate about?
My family, my friends and being there for them.
My "community" (including USI, Memorial Hospital) . . . giving back.
My clients and teammates . . . sincerely focus on what's best for them and mine will follow.
Published September 7, 2018
Photo credit USI Photography & Multimedia